Misty May-Treanor Expecting First Child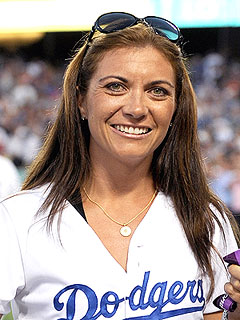 Mark Sullivan/WireImage
Bump, set, baby: Misty May-Treanor is pregnant!
The former Olympic beach volleyball player is expecting her first child with her husband, Cleveland Indians catcher Matt Treanor, in June, her rep confirms to PEOPLE.
"Matt and I are overjoyed and excited about the journey before us," May-Treanor, 36, wrote in an email to the Associated Press. "We have been wanting to start our family and we feel blessed to finally have this little miracle happen."
After taking the sport by storm when she and her partner Kerri Walsh Jennings won their third consecutive gold medal at the 2012 Summer Olympics, May-Treanor announced she would be retiring to concentrate on starting a family.

"It's time for me to be a wife. I want to be a mom and share time with my family," she told PEOPLE following the team's big win. "My mind says it's time and my body says it's time, and it's the right time."
May-Treanor has since been working as a coach in California.
Walsh Jennings — who played with May-Treanor for 11 years — has three children of her own, Joseph Michael, 4½, Sundance Thomas, 3½, and Scout Margery, 10 months. She will go for her fourth gold at Rio's 2016 Summer Games alongside her new partner, April Ross.
Flashback Video: Kerri Walsh Jennings On Her Last Olympics with Misty May-Treanor
— Anya Leon with reporting by Johnny Dodd