Kate Middleton's 'Mommy' Necklace Becomes a Bestseller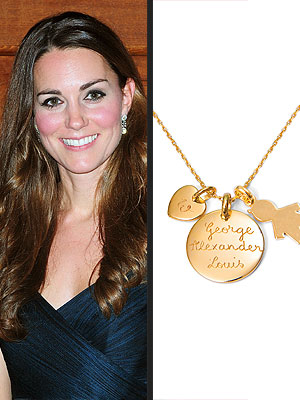 Courtesy Mercimaman; Inset: Landov
The Duchess of Cambridge continues to embrace her everyday favorites when it comes to jewelry.
Kate was recently spotted wearing a simple gold charm necklace — dubbed the "Duchess" — that is available for purchase online at Merci Maman.
Beatrice de Montille, founder of the UK-based e-boutique, said she sent the personalized necklace to Pippa Middleton, asking her if she'd pass it along to then mom-to-be Kate, who is well known for her fondness of retail brands like Topshop and Zara, where her style embrace has caused everything from dresses and shoes to sell out.
"Pippa is one of our customers. She has bought many products from us in the past year," de Montille told PEOPLE.

"We had no news after the birth. We didn't know if (the duchess) was wearing it or not. Then we came across a blog recently showing a picture of her back in October, shopping in Zara, and she was wearing our necklace!"
The hand-crafted and hand-engraved necklace features a circular medallion with the baby's name on it, along with heart and baby-shaped charms. It also starts at about $150 — far below the value of the royal jewels that the queen has lent Middleton, 32, for public appearances.
And once photographs of the new mom wearing the necklace appeared, within three days the demand for it skyrocketed with 25,000 visits to the company's website and tons of orders.
"We created this for her and now we are selling the exact same necklace to everyone," de Montille said. "I couldn't think of a better ambassador. She is very chic."
As for Middleton's penchant for mixing high and low fashions, de Montille adds: "I think that's what makes her very smart. She is a mixture of elegance and simplicity and she is a very humble person. That's what makes her different and makes her a very accessible princess."
— Andrea Billups with reporting by Monique Jessen