Olympian Noelle Pikus-Pace: Medal Is a 'Fairytale Ending'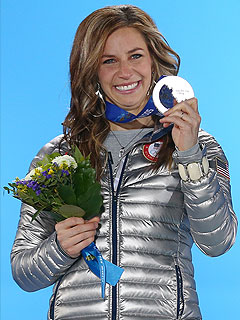 Streeter Lecka/Getty
For Noelle Pikus-Pace, finally winning an Olympic medal at the Sochi Winter Games was a real-life fairytale.
Pikus-Pace slid to silver in skeleton Friday as her family cheered her on. The win capped a long and trying journey for the mom of two: Her leg was shattered by a runaway bobsleigh in 2005, and she famously missed the bronze medal by one-tenth of a second at the 2010 Vancouver Games.
"After all of the hard work that not only I but my family put in to achieve this dream, it came in those minutes, those seconds," Pikus-Pace, 31, tells PEOPLE of her Sochi success. "It really was a fairytale ending."
One of three mothers representing Team USA, Pikus-Pace says 6-year-old daughter Lacee and 2-year-old son Traycen inspired her to reach her goal.
Though she calls parenting while pursuing athletic ambitions "a balancing act," family always comes first for this Olympian.
Plus, her kids are happy to vacation in Sochi — they've even asked to relocate to Russia from their home in Utah. "The first thing that my daughter said when I walked into my apartment was, 'I love Sochi, can we move here?'" Pikus-Pace recalls.
Just a few years ago, Pikus-Pace didn't think she'd ever race down a frozen track again. Following her fourth-place finish in Vancouver, she hung up her sled and announced her retirement. But after a heartbreaking miscarriage at 18 weeks along with her third child, husband Janson Pace suggested Pikus-Pace give skeleton one last try, and the family set about fundraising for the competitions that would lead her to Sochi.
"I didn't retire because I wasn't good at it, or I was injured — I retired because I wanted to spend more time with the family," she explains. "Miracles happened, and we were able to travel the world for the past couple years and really make this a family dream."
Now, she's excited to give back. Pikus-Pace has partnered with Kellogg's Give a Great Start program, which donates breakfast to a child in need every time her video is shared online.
"One in every five kids goes without breakfast every morning, and it's such a critical part of the day," she says of her involvement with the charity.
As for her own kids? Pikus-Pace has retired for good, a silver medal around her neck and her hands soon to be full with raising her children, baking, cooking, gardening and growing her business, Snow Fire Hats. But she's ready to add one more line to her impressive resume.
"I got a letter from the PTA yesterday," she says with a laugh. "Saying, 'Hey, we're excited to have you.'"
— Michele Corriston