Vanessa Simmons Welcomes Daughter Ava Marie Jean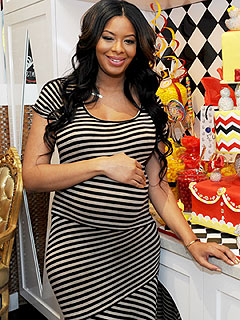 Amy Graves/Wireimage
Run's House has a new addition.
Rev. Run's daughter Vanessa Simmons and her boyfriend Mike Wayans welcomed their first child, daughter Ava Marie Jean, on the evening of Thursday, Feb. 13, her rep confirms to PEOPLE exclusively.
Despite their talk of marriage, Simmons and Wayans have yet to tie the knot. Their relationship status played a big part in the mom-to-be's hesitation to announce the pregnancy.
"There's this whole idea of first comes the marriage then the baby carriage so I was so nervous," she said in October, after confirming the couple were expecting a baby girl.

But Simmons received a surprising reaction after she broke the news to her parents.
"Of course [my dad] wants us to get married, but for now he was like, 'We're gonna figure this out. Just be happy and have a healthy pregnancy. I'm behind you 100 percent,'" she shared.
The reality star stayed true to his word, showing up to lend his support when Simmons was showered with love during her January baby bash.
"This was such a joyous event for Mike and [me] and our families," Vanessa, whose future father-in-law is Damon Wayans, told Essence. "The room was filled with so much love and laughter all in honor of our lil angel."

— Anya Leon with reporting by Gabrielle Olya