Melissa Harris-Perry Welcomes a Daughter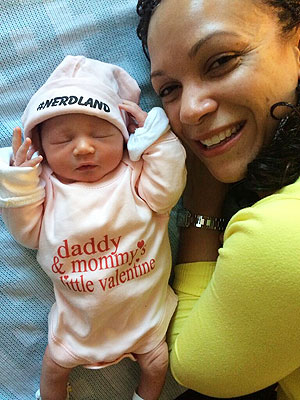 Courtesy Melissa Harris-Perry
Melissa Harris-Perry had someone new to love on Valentine's Day: her baby girl!
The MSNBC journalist, 40, and her husband, James Perry, welcomed their first child together, a daughter, on Friday, Feb. 14, the couple announced via Twitter.
"Best Valentine Ever! [James] and I welcomed our daughter yesterday!" the Melissa Harris-Perry host, who is also mom to 12-year-old daughter Parker, writes.
The new dad posted a picture of the couple cradling their bundled baby. "Here's the wonderful Valentine's day gift that [Melissa] and I received yesterday! A beautiful baby girl," he Tweeted.
Harris-Perry and Harris were married in October 2010.
Here's the wonderful Valentine's day gift that @MHarrisPerry & I received yesterday! A beautiful baby girl pic.twitter.com/dTD9mnxdbU

— James Perry (@JamesHPerry) February 15, 2014
Best Valentine Ever! @JamesHPerry and I welcomed our daughter yesterday! #TinyNerdinNerdland pic.twitter.com/PEHuBdUaRG

— Melissa Harris-Perry (@MHarrisPerry) February 15, 2014
Lovely to see so many stories welcoming our daughter. However @JamesHPerry & I did not adopt. Adoption is loving choice but not our story.

— Melissa Harris-Perry (@MHarrisPerry) February 17, 2014
I'm working on a piece about our little miracle, but I have my hands full at the moment. Thanks to all who've sent love, joy, and support.

— Melissa Harris-Perry (@MHarrisPerry) February 17, 2014
— Anya Leon