Julianne Moore's Daughter Liv Stars In Her New Children's App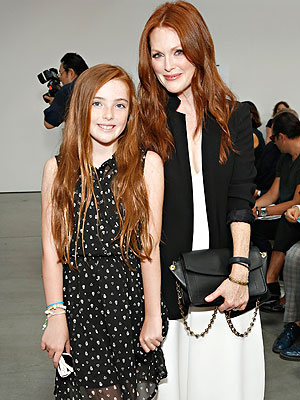 Cindy Ord/Getty
As a child, award-winning actress and author Julianne Moore may not have been a fan of her signature freckles and red hair, but little did she know they'd end up being the inspiration for her children's book character, Freckleface Strawberry.
And now, the Game Change star has launched her second kid's app called Freckleface Strawberry Dreamtime Playtime, which is based on Moore's best-selling book series.
Designed for the iPad and iPhone, it's a math-building skills game that lets kids count, sort, and match with Freckleface Strawberry herself.
"When I was developing the second app, I really wanted [to focus on] skills for children like counting, sorting and matching. Basic educational skills that can be put into a fun game for kids," Moore told PEOPLE.

The actress also recruited her 11-year-old daughter (and lookalike) Liv Freundlich to voice the Freckleface Strawberry character.
"She did such a great job as the voice. She's so adorable, and approachable, and real as the voice. That's what I love about it. She's a real little girl. [Other kids] will know they're listening to a child rather than an adult doing a child's voice," Moore said.
And who knows, there's already Freckleface Strawberry The Musical, so why not Freckleface Strawberry The Movie? After all, Liv's already got the voice and the look.
— Jo Aaron