We Tried It: Mamas & Papas Armadillo Stroller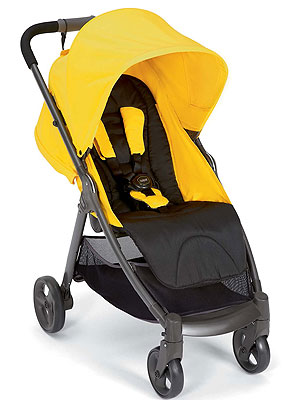 Courtesy Mamas & Papas
Who tried it: Rennie Dyball, senior editor
Why she did it: My 5-month-old daughter was starting to get bigger so I needed to find a sturdy stroller that wasn't too heavy. But how many baby rides have the best of both worlds?
The new Mamas & Papas Armadillo comes pretty close. A cross between a multi-featured, full-size stroller and a lightweight model, it's a lovely little hybrid that boasts more pros than cons. And for its price point ($250), you get a lot of bang for your buck.
The company calls it their "Big Little Stroller," and that's an accurate way to sum it up. With four strollers currently residing in my apartment (and having test-driven many more), I've logged dozens of miles with my little babe in tow.
Here's how I found the Armadillo to break down, feature by important feature.

The pros and cons:
The Seat
It's the most important part of any stroller for the passenger, and the Armadillo seat was a hit with my little test driver. It's that deep, "bucket" style that babies seem to enjoy, with plenty of padding to boot. A full recline with a long leg rest makes it a great fit for naps at any age, and it's compatible with infant car seats. The only con for me is the harness, which is slightly more difficult to operate than that of other stroller brands.
The Handling
My husband likes to poke fun at me for talking about the way a stroller "handles," but any parent who pushes these things around for hours will know what I mean. A stroller is your baby vehicle, especially for city dwellers, and it needs to feel good to push around. The Armadillo handles quite well, even in the one-handed steering department. (If you're an expectant mom, just wait: you'll need to push your stroller with just one hand far more often than you think.) And the company says it tests its strollers by replicating pushing a 3-year-old 143 miles over a rocky road. So, at least on paper, it should hold up for the long haul.
The Size
This stroller is small enough to feel like I can be nimble on the city streets and not go crashing through store doorways, but big enough to feel stable. At 17.6 pounds, it's a manageable weight for a stroller. Easy enough to take in and out of a trunk? Absolutely. Up and down subway stairs? Depends on the user. I love that it's got four wheels (personally, I find that three-wheeled strollers tend to feel like they could tip) and the biggest sun canopy of any stroller I've seen.
The Fold
Lots of consumer products claim to be intuitive, but this one really is — I was able to figure it how to fold and unfold the Armadillo with minimal effort.
The Extras
The all-important storage basket is generously sized. You're not going to carry home a week's worth of groceries in it, but I was able to fit a small purse, a portable changing pad, hat and gloves without a problem. And the best part is, I could still fold the stroller with all that stuff inside. The peek-a-boo window is also a nice touch — it's secured with magnets, not Velcro, which could wake a sleeping tot. At 5'7," the fixed handle was a comfortable height for me, but for the taller mamas and papas out there, it may be a bit on the low side.
The Look
Again, my husband would have a good chuckle. But I say pick a stroller you'll enjoy looking at day in and day out, and the Armadillo is cute as a button (especially when my little one take it for a ride, see below). It comes in several colors, including a cheery yellow, which brightened up my cold, gray test drive.
And if where you live is anything like NYC, the sidewalks are probably dominated by a handful of the most pervasive stroller brands, so it's fun to have something a little different.
The Mamas & Papas Armadillo comes with a rain cover; infant car seat adapters sold separately. Suitable from birth (fully reclined) to 50 lbs.
The verdict: If you're looking for a lightweight stroller that's sturdy enough to give your baby a smooth and safe ride, then the Armadillo fits the bill.
Cost: $250