Chris Pratt's Son Jack Is 'Really Observant'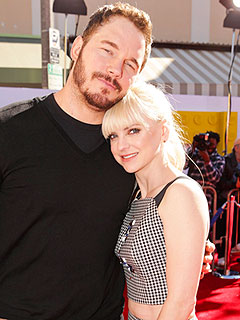 Eric Charbonneau/Invision/AP
Now that Chris Pratt's son Jack is 17 months old, he's catching up with his peers — and the proof is in the pudding.
"He'll totally surprise me with the things he'll say, maybe a week after he heard me say it," the actor told PEOPLE Wednesday at the Cinema Society screening of The LEGO Movie in New York City.
"[He'll repeat] toys, colors, body parts like knee, elbow, hand. You get the sense that he knows a lot more than he's saying [aloud]," Pratt, 34, explains.
"I'll say, 'Where's your head?' and he'll point to his head. And I'll say, 'Put the sock on your nose,' and he'll put it on his nose."
It's a welcome change for the Parks and Recreation star and wife Anna Faris, who welcomed their little guy nine weeks prematurely in August 2012.

"Every day is something new. I'm noticing he's really observant. He's watching everything around him and [using it as] a learning moment," said Pratt.
One thing Jack won't be watching any time soon? Mom or Dad's films.
"We keep him away from the screen right now, but I'm sure we'll be plopping him in front of [it] in no time," Pratt jokes, adding that his latest project will definitely be added to his son's repertoire eventually.
"That's going to be playing for my child in a few years, so that way I can hear my voice over and over."
— Carlos Greer