Sweet! 14 Valentine's Day Treats Your Kids Will Love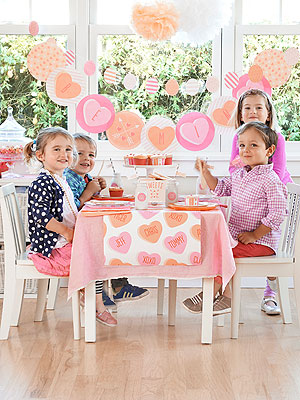 Courtesy Minted
You can't buy their love — but it's sure fun to try!
As Valentine's Day quickly approaches, we're here to help you find the perfect gifts for your little ones.
From sweet décor and heart-print jammies to D.I.Y cards they can make themselves, these goodies will warm their hearts Feb. 14 and beyond!
Check out our round-up below:
DIVINE DECOR
Make your Valentine's Day soirée one to remember with Minted's chic banners, centerpieces and table signs ($66 – $129, left) that you can customize with your favorite photos.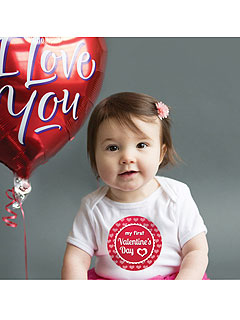 Courtesy Sticky Bellies
JELLY BELLY
Make the Facebook photo of your little one's first Valentine's Day one to remember with belly stickers from Sticky Bellies' Happiest Holiday collection ($14). It includes 365 days worth of holiday milestones — including first Valentine's Day, July 4th and Thanksgiving — all neatly summed up on removable and reusable stickers.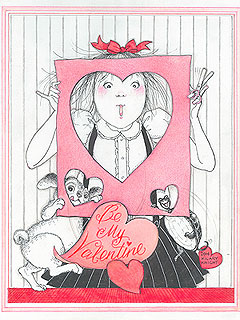 Courtesy The Plaza New York
BIG CITY GIRL
Her heart will skip a beat when you give her a limited-edition Valentine's Day print of Eloise ($275) — the plucky character who resides at New York's Plaza Hotel — by Hilary Knight, the original illustrator of the famous books.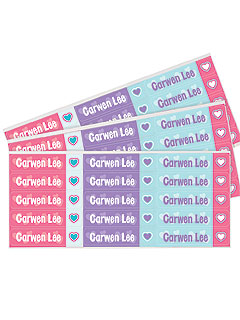 Courtesy Mabel's Labels
SWEET NOTHINGS
There will be no broken hearts with these super-sticky — and completely customizable! — labels ($21) that are great for love letters or everyday notes. Bonus: They're durable and waterproof too.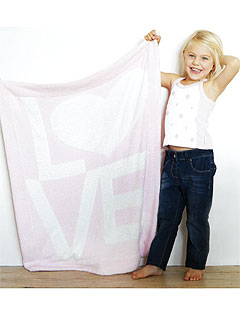 Courtesy Little Giraffe
LOVE BUG
You shower them with hugs and kisses everyday, now wrap them in love (literally!) every night. Knitted with "the softest yarn on earth," this snuggly blanket ($78), available in pink and blue, is a constant reminder of who cares for them the most.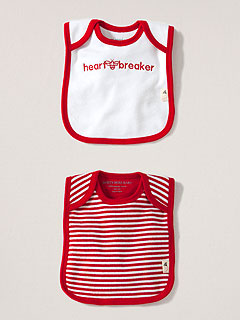 Courtesy Burt's Bees Baby
EAT YOUR HEART OUT
They'll be melting hearts and catching crumbs at mealtime with these Burt's Bees bibs ($15 for set of 2).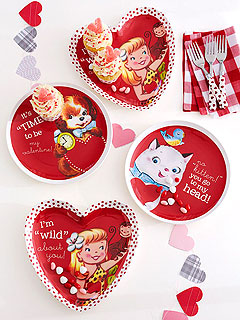 Courtesy Pottery Barn Kids
RED HOT PLATE
Sweeten everyday meals — including broccoli — with Pottery Barn Kids's BPA-free plates ($12.50 for set) emblazoned with silly vintage designs.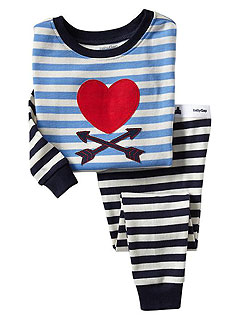 Courtesy Gap
SLUMBER HEART-Y
They'll be snug as a bug in Gap's striped cotton pajamas ($25) featuring an embroidered heart.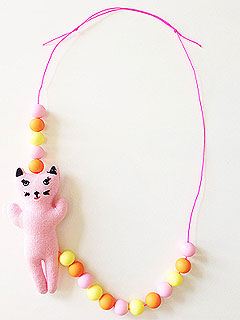 Courtesy Wunway
FUR REAL
It's the [ITALIC "purr"]-fect gift for the little girl who adores felines! Handmade with soft fabric, this beaded kitty necklace ($24) will become her go-to accessory this season.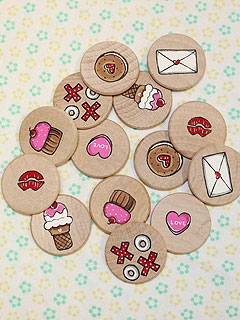 Courtesy Etsy
REMEMBER ME
Who could forget the adorable hand-painted designs on these wooden tokens? When V-day is over, the 14-disc memory game ($18) is easily stashed in a drawstring pouch that comes with your order.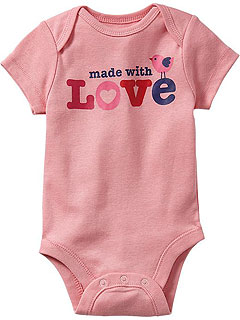 Courtesy Old Navy
PRETTY IN PINK
Old Navy's tag-free onesie snaps at the bottom for ease during dressing and diaper changes.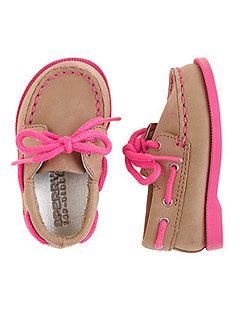 Courtesy J.Crew
FOOT WORK
Their Valentine's Day ensemble is now complete from head to toe thanks to J.Crew's leather boat shoes ($32) that are designed to keep those wobbly legs more steady.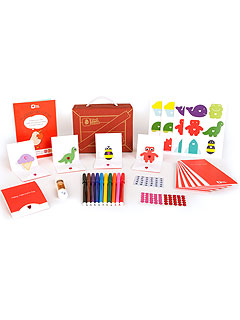 Courtesy Kiwi Crate
BE MINE
Make your kid the envy of the classroom with these easy-to-make pop-up Valentines ($15 for set of 24) from Kiwi Crate.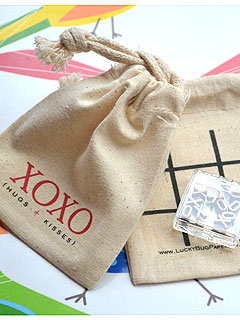 Courtesy Etsy
KISS COME TRUE
What's not to love? This tic tac toe game ($9) makes a great party favor for older kids celebrating February birthdays.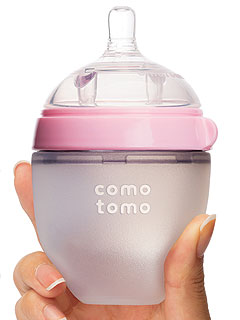 Courtesy Comotomo
THINK PINK
Make the breast to bottle transition an easy one with Comotomo's squeezable bottle ($14) that is covered in skin-like material so it feels natural for baby.
— Amy Jamieson