Ciara Shares 'Cool Like That' Bump Photos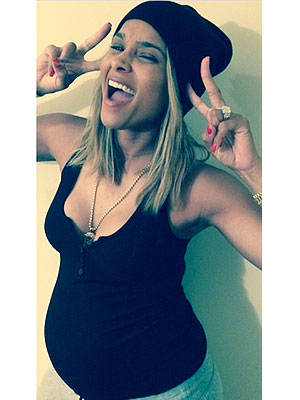 Courtesy Ciara
Leave it up to Ciara to quote Digable Planets's hip hop hit, "Rebirth of Slick (Cool Like Dat)," to show off her growing bump.
The jazz-heavy 90s song provided the perfect vibe for the mom-to-be's Instagram photoshoot on Monday featuring four fun snapshots of the singer in different poses.
"I'm peace like that," wrote Ciara to caption the silly photo, left.
Ever since announcing her pregnancy, the expectant star has been more than happy to show off how much she's enjoying the experience. As she should.
But that doesn't mean she's slowing down when it comes to promoting her latest single, "Body Party," or planning her wedding.

The singer, who is expecting her first child with fiancé Future, attended the Grammys in a beautiful gold gown and performed post-show.
"I worked really hard, especially with my belly now," she said.
— Shanelle Rein-Olowokere