Amanda Beard's Blog: New Year's Resolutions – Mom Edition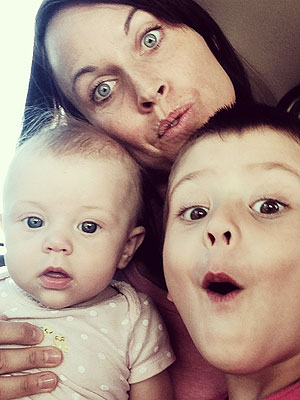 Courtesy Amanda Beard
Thanks for welcoming our newest celebrity blogger, Amanda Beard!
The seven-time Olympic medalist first appeared on the sports scene at the 1996 Atlanta games, walking away with her first gold for the medley relay and two silvers for the 100 and 200-meter breaststrokes — all at the age of 14.
Since then, the competitive swimmer scored a bronze medal at the 2000 Sydney Olympics, and her first individual gold medal along with two silvers at the 2004 Athens games.
Beard, who is sponsored by Aqua Sphere, recently penned her memoir, In the Water They Can't See You Cry.
She and her husband Sacha Brown married in May 2009 and are the proud parents of son Blaise Ray, 4, and daughter Doone Isla, 7 months.
Beard can be found online on Facebook, Instagram and Twitter @AmandaRayBeard.

Happy New Year, PEOPLE.com!
We rang in 2014 the best way we could think of: on our couch, with two sleeping kiddos, watching the ball drop on TV in New York City, with many hours of glorious sleep following.
Okay, I'm kidding about that last one; we're parents, after all. Cheers to parenthood!
We also kicked off the New Year with an exciting change: we moved! We have officially sold our home in Tucson, Ariz. and are now happily settled in Seattle, Wash. Both Sacha and I love the desert, but we're water people at heart, and can't wait to explore our new state with the kids in tow.
These last few months, I've invited you into my life to learn about my family: my husband, Sacha, who has been my rock through the years, our son, Blaise, who is our resident superhero, and our smiley daughter, Doone, who has brought so much love to our family. I've talked about our juggling acts, our small victories throughout the weeks, what we're thankful for and how we stay active together.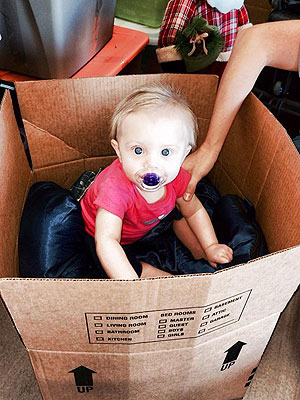 Courtesy Amanda Beard
But now I want to talk about something even more personal: me. And more importantly: you! That's right, Moms — you need a time out, and so do I.
Many bright minds before my time have suggested that it's important to be selfish as a mom; that our children are at their best selves when we, as parents, are at our best selves. Although my family is my life, I know that I'm a better mom when I'm focused, well-exercised and feeling great.
Let's Set Goals
In my last post, I talked about setting S.M.A.R.T. goals for New Year's resolutions, and I told you that I'd share a few of mine.
1. Compete in a race in 2014: It's been more than a year since I swam competitively, and I truly miss stepping up on the swimming block, assuming the diving position, and diving into the pool to challenge myself against other swimmers.
I'm excited to be training with a new team in Seattle and doing it indoors for the first time in my life. By the end of 2014, I will swim in a competitive race (hopefully more than one!).
2. Train like a champ and have fun doing it: My family has taught me that life is about having fun, but training can be so serious! As an addendum to my previous goal, I vow to keep training fun this year by laughing with my coaches, incorporating my kids, and changing my mindset — in addition to viewing my workouts with the end goal in mind (Rio 2016!).
3. Learn something new every day: Isn't it amazing how kids have a natural ability to help you achieve this goal at least once, if not twice, a day? Sacha and I work daily to help our kids discover their interests.
Take Blaise, for example. I may be biased, but he is an amazing artist. Blaise has taught me to look at the world a little differently than I normally do, and to see things that I miss in the day-to-day through his artwork. I'll embrace learning something new every day in 2014 by helping my kids discover their worlds — and our new world in Seattle.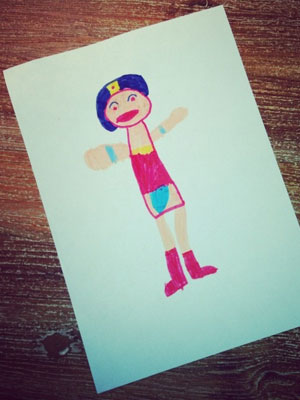 Courtesy Amanda Beard
Let's Stick to Our Goals
January is an odd time of the year. We exit the holidays feeling full, happy, well-rested and optimistic for the New Year with an awesome set of resolutions ("Get in shape!" "Be happy!" "Hang out with friends!"). And then, oftentimes, the realities of life blindside our goals, which get pushed to the wayside before you can say, "How is it already February?"
Let's nip this annual bad habit in the bud right now, and stick to our goals. Here's a few ways I plan to stay committed in 2014.
1. Develop a daily wellness ritual: Whether it's meditating for 10 minutes each morning or writing one sentence in a journal each night, develop a small habit that brings you happiness each day. Happiness helps people to see the big picture, which in turn, helps you see your goals in the long-term.
2. Create a mantra: Strengthen your goals from the inside out with a phrase that pushes you to the next level. Mantras allow us to focus on something other than what is actually in front of us, move beyond our roadblocks and achieve ongoing success. If you don't know where to start, you can try one of mine: "You are strong enough."
3. Visualize your success: Or in other words, go swimsuit shopping in January! I know it seems like summer and swimsuits aren't even in sight, but I suggest buying a swimsuit now to debut by a goal date. Memorial Day weekend usually works well for this!
By no means am I suggesting you purchase a swimsuit two sizes down, or even one. The goal is to display your swimsuit where you'll see it every day, which will serve as a reminder to be confident in all of your decisions: drinking more water, eating more veggies, and topping your froyo with berries. Then, once you debut your new swimsuit and your healthy body, you're bound to feel confident in all the choices you've made leading up to that day.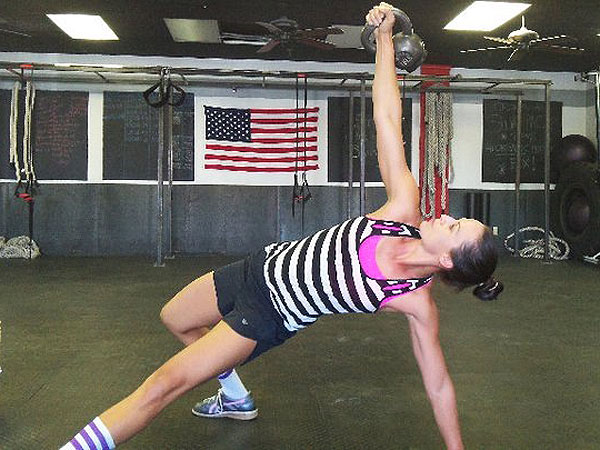 Courtesy Amanda Beard
Let's Get Active!
Exercise is quintessential to total mind and body happiness. While I'd love to get in a great daily training session, we all know as moms that this isn't always possible. On those types of days, I aim to complete one of my go-to workouts, which can be completed in your backyard pool or on your living room floor.
Amanda's Go-To Pool Workout
Warm-up with the following sequence:

200m Swim
200m Kick
200m Pull
Then, complete the following workout sequence one-time through:
8 X 50m: Two of each stroke
8 X 25m: Fly stroke
300m Pull; only breathe every three to five strokes
5 X 100m Kick; use different kicks
300m warm down
Amanda's Go-To Living Room Workout
Warm up with a quick jog and stretch. Then, complete the following sequence one-time through, resting no more than 30 seconds between each type of move:
50 Body-weight squats
40 Sit-ups
30 Burpees
20 Lunges
10 Pull-ups
5 Push-ups
Are you tired yet? If not, repeat!
Note: I am not a doctor. Do not attempt any sort of workout without consulting your physician first!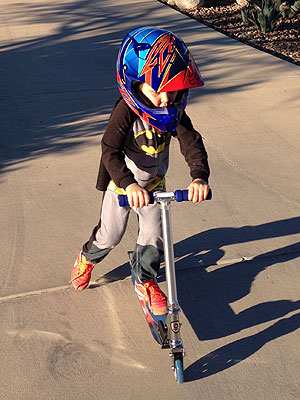 Courtesy Amanda Beard
Let's Look Great — and Feel Great — While Getting Active
Swimming for fitness brings to light an important question: what do I wear? We're all human, so I understand that you're slightly squeamish at the thought of getting into a swimsuit at times, but let me remind you: your body is not only beautiful, it's INCREDIBLE!
You've given birth. High five, mamas! As someone who has spent most of her life in a swimsuit, I've pretty much figured out the ideal features to look for when selecting swimsuits and accessories to make sure you're comfortable no matter what.
Select a comfortable swimsuit with the following key features:
Bust support to keep the girls in place
Adjustable straps
Tummy control to provide structure for the midsection
A medium leg for suitable coverage
Quick-drying material — Aqua Sphere recently launched a new swim line called AquaLight, which is designed with water repellant material that dries up to six times faster than a normal fabric. Trust me, you won't want another swimsuit after you try this out!
My recommendations: Aqua Sphere's Lima, Tiki, Cindy or Carla.
Select a comfortable pair of goggles with the following key features:
A lens to provide a 180-degree view of the pool
Advanced technology for a water-tight seal
Easy-adjusting straps
100 percent UV protection
My recommendation: Aqua Sphere Kayenne Ladies or Vistas — they also won't leave those annoying google marks on your face!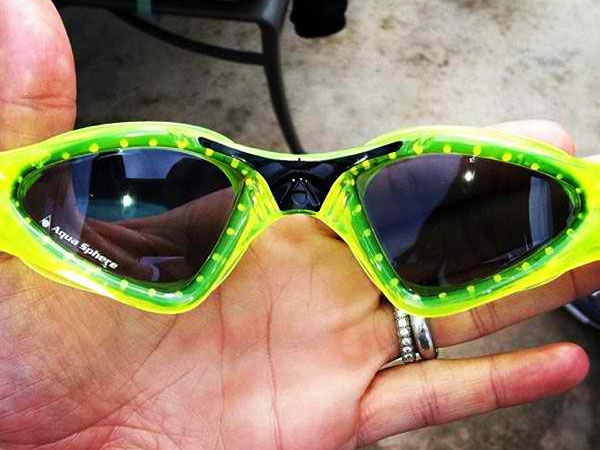 Courtesy Amanda Beard
What do you do to be "selfish" in order to be a better mom?
— Amanda Beard