Watch Words Come to Life with Nickelodeon's New Show, Wallykazam!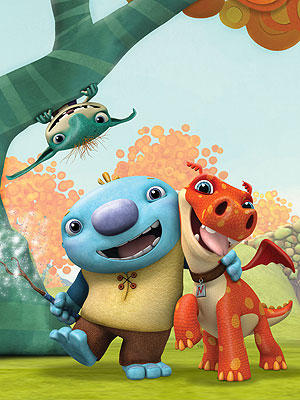 Courtesy Nickelodeon
The network behind hits Dora the Explorer, SpongeBob Squarepants and more is rolling out a brand new preschool series, Wallykazam!
Created by Emmy-winning writer/producer Adam Peltzman (Bubble Guppies, The Backyardigans), it follows the adventures of a troll named Wally and his pet dragon, Norville, who make words come to life on the screen with a magic stick.
Not only does each episode feature a new set of words your child can learn, but it helps introduce skills such as letter and sound identification, rhyming and reading comprehension.
"Wallykazam! offers a new approach to literacy by weaving it into a comedy-driven story with funny characters and adventures that will keep preschoolers laughing and engaged," said Teri Weiss, executive vice president, Nickelodeon Preschool.
"It furthers our commitment to producing high-quality, curriculum rich content that helps prepare young children for the important adventure of starting school."
In the series premiere ("Naptime for Borgelorp"), which debuts on Monday, Feb. 3 at 1 p.m., Wally babysits Ogre Doug's hyper pet Borgelorp. His only instructions: get Borgelorp to take a nap and don't let him eat any purple flowers.
Well, you'll have to watch the episode to find out what happens. Or you can get a sneak peek in the video below.