Brad Paisley: It's 'Hard' to Let My Boys Make Their Own Mistakes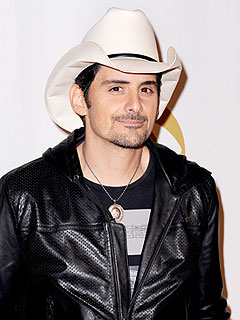 Scott Kirkland/PictureGroup
He may be a huge country star, but Brad Paisley is a father first — even if it's not always easy.
"They're growing up," Paisley, 41, told PEOPLE Monday at the taping of The Night That Changed America: A Grammy Salute to the Beatles, which airs Feb. 9 on CBS. "I see so much of me [in them]."
Paisley, who has two sons, Huck, 6½, and Jasper Warren, 4½, with his wife, former Nashville star Kimberly Williams-Paisley, has had to learn not to be an over-bearing parent as his boys continue to grow up.
"It's hard not to tell your kids, 'Don't do that. I've made that mistake,'" Paisley said before performing the Beatles hit, "Here Comes the Sun," on stage with Pharrell Williams. "You can tell them that all you want, but you've got to let them do it."
And that's not the only thing Paisley lets the boys do.
"My favorite thing right now is actually to go out and throw a football around with them," he says with a smile. "They have to get past me at the goal line and they have to organize an offense against me. I let them win."
When it comes to reading though, Paisley says Huck and Jasper are the ones beating him!
"They're trying to learn how to read like every other 4 and 6 year old. They're already reading better than me, but that's not saying anything," he jokes.
— Matthew Cole Weiss
Video Flashback: Kimberly Williams-Paisley Introduces Jasper