Baby Boy on the Way for Anansa Sims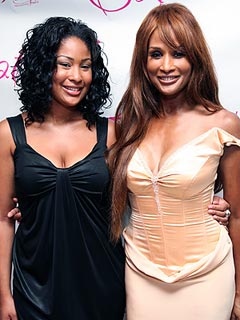 Astrid Stawiarz/Getty
Anansa Sims is feeling blue!
The plus-sized model, 35, and her husband, former NFL player David Patterson, are expecting their third child — a boy! — in June, Sims announced Saturday on Twitter.
Along with two ultrasounds of her baby on the way, the mom-to-be Tweeted, "Coming soon at the end of June!"
She later Tweeted to her mom, former supermodel Beverly Johnson, the happy news. "The Bible says be fruitful and multiply!"
Sims and Patterson — who tied the knot in 2010 — are already parents to son David Bernard III, 14 months, and daughter Ava Brielle, 2½.

Coming soon at the end of June! @BeverlyJohnson1 pic.twitter.com/Cv1QQbevYD

— Anansa Sims (@AnansaSims) January 25, 2014
— Anya Leon