Malin Akerman: 'Everything and Nothing' Surprises Me About Motherhood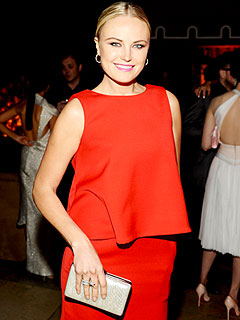 Stefanie Keenan/Getty
For the always stylish Malin Akerman, looking good has never really been an issue.
However, being a new mother presents its own set of style quandaries — such as how to get out of the house without spit up on her dress.
"It is very hard because all I want to do is hold that baby," she told PEOPLE with a laugh, while attending ELLEs Women in Television Celebration last Wednesday in Los Angeles.
"So I put on the dress at the very last minute, and then scoot out without holding him or getting close because it happens all the time."
And when 9-month old Sebastian isn't adding his personal touches to couture gowns, he's charming his mother.

"The best part about him is that he cracks himself up with so many things," the Trophy Wife star says. "Literally, I'll put him in his bed, and all of a sudden, I'll just hear him laughing. He's kind of amazing."
Amazing and very near-ambulatory, something that is more than entertaining for both mother and son, admittedly for different reasons.'
"He's almost walking now!" Akerman, 35, shares. "We do this thing where I'm walking backwards, and he's walking, just watching your feet walk backwards is hysterical to him. It's so much fun!"
When asked what has surprised her the most about motherhood, Akerman, who was raised a Buddhist, let a smile spread across her face and had a fittingly contemplative response.
"Everything and nothing," the actress says. "It's like one of those things where it's everything you expected, but it's not at all how you expected it. There's so much love, and in such a crazy way, you just keep pinching yourself because they grow so much all the time."
She continues, "You keep going, 'Wow, he looks so much like me,' or 'He's doing this, and that looks so much like his father.' So many moments that you didn't know were going to happen that just excite you that are really small things."
And despite the long hours shooting her ABC sitcom, Akerman — who recently split from husband Roberto Zincone — makes sure that she's around Sebastian as much as possible so that those small moments are never missed.
"Every single moment you have you just squeeze it in and you spend it with your baby," she says. "Luckily, the business that I'm in, I get to bring him to work every day. I get to see him every break that I get, every different set-up that I'm doing he comes down to set. Everyone on set is like his aunts and uncles. He's going to be a really social baby!"
— Reagan Alexander