Evelyn Lozada Is Expecting a Son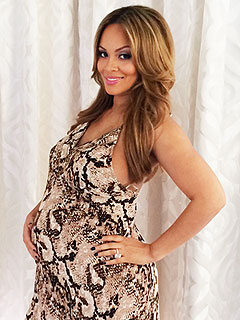 Courtesy Evelyn Lozada
It'll be a boy come March for Evelyn Lozada!
"Surprisingly, I found out when I had my first trimester screening," the reality star, 37, tells PEOPLE exclusively.
"I was about 13 weeks when they told me the sex! I was honestly praying for a boy. I have wanted to have a son for years," adds Lozada, who often talked about her desire to have a son on Basketball Wives.
This is just the latest happy news for Lozada, who got engaged to the father of her baby, Los Angeles Dodgers outfielder Carl Crawford, over the holidays.
Her daughter Shaniece, 20, found out the sex of her sibling alongside her expectant mom.

"We were both so happy. There are all girls on my side, so this will be our first boy. My family is over the moon," Lozada says. "Every time I go to the doctor, I have them check to make sure it's a boy. I'm still in disbelief!
"Shaniece is just happy that she can still be the princess of the family," adds Lozada jokingly. "Her brother is already her BFF in her head."
Now seven months along, the mom-to-be will be celebrating her upcoming arrival with a "diapers and diamonds" themed baby shower on Saturday, Feb. 8, in Los Angeles. Hosted by Shaniece and Lozada's Basketball Wives costar Shaunie O'Neal as well as close friends Teresa Caldwell and Danika Berry, the event is being organized by celebrity event planner Diann Valentine.
Guests have already been sent a custom invitation created by Lehr & Black of Beverly Hills — an engraved linen Honeycomb shaped museum board with beveled edges adorned with Swarovski crystals.
After the shower, Lozada and Crawford will focus on their next big decision — choosing a name for their son.
Teases Lozada, "Carl and I have a few in mind, but haven't decided yet."
Courtesy of Lehr & Black
— Lee Hernandez