Jessica Alba Teams Up with aden + anais on a Sweet Set of Swaddles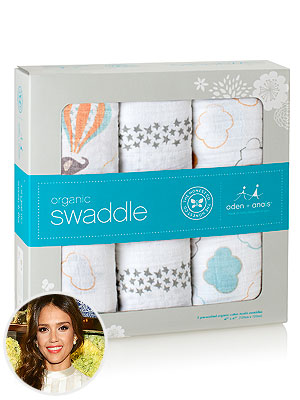 Courtesy aden + anais; Inset: Mark Davis/Getty
Jessica Alba's baby product empire continues to grow!
Just last month, the actress, author and Honest Company co-founder teamed up with Baby Jogger to release a stylish new take on the City Mini GT stroller.
And now, she's connecting with another popular brand for a chic spin on an old favorite — aden + anais's super cute (and soft!) muslin swaddles.
The gender-neutral designs (hot air balloon elephants, stars and clouds) are printed on GOTS certified organic cotton and retail for $55. Honest members can snap them up for $41.21.
"These are the newest item in our specially curated assortment of unique family essentials, The Collective," Alba says.

"We see The Collective as another way for us to deliver on our promise to continually inspire and delight!"
It's a good thing Alba is so excited about this collaboration because daughters Honor, 5, and Haven, 2, often help test out her products.
And if it's anything like the aden + anais/Hello Kitty collection, we're betting these sweet swaddles will disappear fast.
— Rennie Dyball