Andrew Firestone Welcomes Son Shane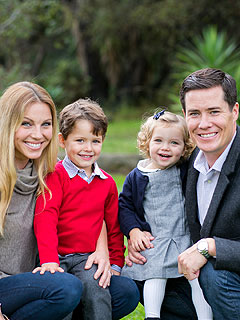 Kacie Jean Photography
The latest Bachelor baby has arrived.
Andrew Firestone and wife Ivana welcomed their third child, son Shane, on Monday, Jan. 27, the former reality star confirms to PEOPLE exclusively.
The new addition, who weighed in at 8 lbs., 4 oz. and is 21.5 inches long, joins sister Anja, 2½, and brother Brooks, 4½.
"Baby Shane and Mama are together — happy and healthy and beautiful!"  Andrew, now a senior VP at West Coast Asset Management, tells PEOPLE.
As they have in the past, the couple chose to await a delivery surprise.

"Anja wants it to be a girl, Brooks wants it to be a boy," Ivana told PEOPLE in July. "But we're not finding out. We like the surprise!"
"We are so thrilled to add another member to our family," Andrew, 38, added at the time. "I figure since our kids are already outsmarting us, they might as well outnumber us too!"
The Firestones were married in July 2008.
— Aili Nahas