Madonna: My Son David Chose Our Grammys Look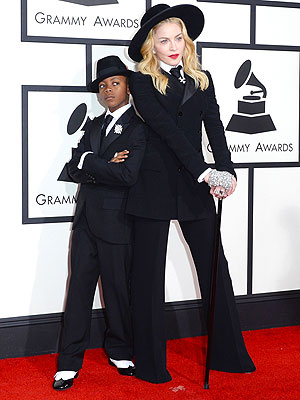 Jason Merritt/Getty
Madonna has sported every look on the red carpet, so it only makes sense that she'd get a little help for the 2014 Grammys.
The pop singer and her son David Banda, 8, showed up to E!'s Red Carpet special rocking matching black tuxedos and top hats.
"We're both working the Ralph Lauren angle," she tells host Ryan Seacrest.
And young David isn't afraid to take credit. He confirmed to Seacrest that he was the inspiration behind their dapper threads.
"Yes, I did. Yes, very well," he said.
"For this look, I followed his lead. He dressed me tonight. He wanted me to dress like him, so I obeyed him," Madonna, 55, jokes.

But when you're Madonna, there has to be at least one signature look to separate her from the rest of the pack.
"Yeah, I'm grilling," she replied when asked about her gold teeth. "It pisses everyone off when I wear my grill, so that's why I wear it — when it matches my outfit.
And of course, young David wants to take mom's lead.
"She said she'd get me grills this birthday," he adds — only to have Mom tell him he needs to visit the dentist first.
— Carlos Greer