Molly Sims' Thyroid Condition Made Weight Loss 'Hard Work'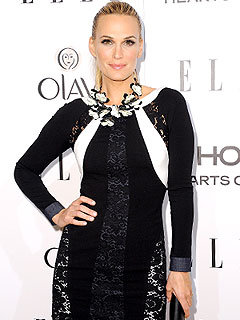 Angela Weiss/Getty
For Molly Sims, the transition from model to mom has been relatively easy.
But for a woman who once graced the pages of the Sports Illustrated swimsuit issue, getting her pre-baby body back presented more of a challenge.
"It's been 19 months!" Sims told PEOPLE while attending ELLE's Women in Television Celebration in Los Angeles. "It was hard work. It was hard work for almost 13, 14 months because of my thyroid issue, but once I knew what it was I got it under control."
Sims suffered from a thyroid condition that led the first-time mom to gain almost 65 lbs. during her pregnancy and then, once son Brooks Alan was born, she became concerned about just how stubborn those additional pounds were. With medication, and a new view on diet and exercise, the 40-year-old stunner is back in fighting — or at least bikini — shape.

"I know this is going to sound weird, but I'm actually exercising a little bit less, and watching what I eat a little bit more," she says. "I find that sometimes I can over-exercise, where it actually makes me hungrier, to the point where I'm starving! So, I've been trying to cut back."
Well, not entirely cutting back on all forms of "exercise," as Sims let slip that she and her husband, film producer Scott Stuber, are aiming to give Brooks, now 19 months, a sibling.
"It's still something you have to maintain," she says, before adding. "And we're starting on baby number two, so you have to keep it going."
And what does "starting on baby number two" mean, obvious logistics aside? "Talk to daddy!" Sims says with a laugh as her publicist leads her away. "Daddy likes it!"
Well, practice does make perfect … babies.
— Reagan Alexander