David Walton: Why Juggling Two Kids Is So Demanding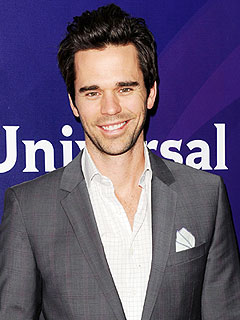 Fitzroy Barrett/Splash News Online
Since welcoming his second child in November, fatherhood for David Walton has suddenly become "absolutely terrifying" — and the most demanding part of double daddy duty may be playing the role of rescuer on a daily basis.
"With one you can golf occasionally," the About a Boy star, 35, told PEOPLE during NBC's TCAs on Sunday in Pasadena, Calif. "With two, if my wife [Majandra Delfino] has one baby on the boob, the other kid is wandering off somewhere and I have to get in there."
When he's not saving 19-month-old daughter Cecilia Delphine's life, Walton relishes in the quieter moments, when he is able to unplug and spend quality time with his little girl.
"My big thing now is everything off — phone off — and just watch them play. It's fascinating," he shares.
"You can watch them explore the world. I learn to know my kid in a different kind of way — just sitting back and watching without any agenda."
Despite the learning curve to juggling two kids, Walton admits 10-week-old Louis Augustus' sleep schedule has eased the transition.
"He wakes up a couple of times [during the night], but that's all," the proud papa says, adding that his son has been spending time in the couple's big bed as he battles a cold.
"He's got a cough. It's so sweet. It's funny how when your kids get sick, they get even cuter when they have a stuffed nose and they mouth breathe."
About a Boy premieres Saturday, Feb. 22 after the Olympics.
— Anya Leon with reporting by Monica Rizzo