Anna Chlumsky's 'Secret' to Shedding Baby Weight? Working Out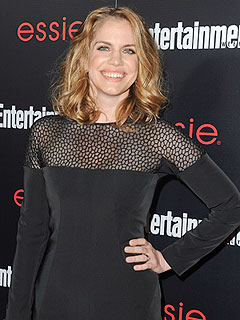 Angela Weiss/Getty
It's only been six months since she gave birth to her daughter, Penelope Joan, but Anna Chlumsky has already regained her slender, pre-pregnancy figure, and for the Veep star there's no mystery as to how she did it.
"People have asked this, and I've gone, 'Oh, I don't know!' Of course I know," the actress, 33, told PEOPLE at the Entertainment Weekly Screen Actors Guild Party in Hollywood.
"I exercised a lot while I was pregnant, I did pregnancy workout tapes five days a week, and I did pregnancy yoga once a week. I was exercising, and it was the best thing."
Not that expectant mothers need to learn anything more about fatigue, but the actress — who burst onto the scene in 1991's My Girl — feels that you can either fall prey to tiredness or get physical, and that's why she's a proponent of working out during pregnancy.
"I really am, especially if you're cutting out caffeine, which you really don't have to, but if you are, you end up being so tired," she says. "Getting that oxygen, getting that blood flowing, it's the best thing to do."
And though being able to slip back into red-carpet form is an added bonus to a healthy lifestyle, the new mom points out that all else pales in comparison to the change of perspective she gained when she became a mom.
"It's so crystal clear what matters every day," Chlumsky says. "You don't have to wrestle with priorities — you know what your priorities are. It's awesome."
— Reagan Alexander
Video Flashback: Anna Chlumsky Will Raise Her Daughter to Be a City Girl