Amy Lee Expecting First Child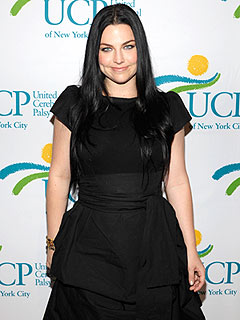 Ilya S. Savenok/FilmMagic
There's a baby on the way for Amy Lee!
The Evanescence frontwoman and her husband, Josh Hartzler, are expecting their first child together, she announced Saturday on Twitter.
"Ok I can't keep it a secret anymore – I've been working on a very special new project for 2014 – A BABY!" Lee, 32, Tweeted.
She added, "Josh and I are expecting! I'm so happy!"
Could the "My Immortal" singer's pregnancy cravings already be kicking in? "Just watched my husband walk off in a foot of driving snow to go to the store and get me ingredients to make chowder and cake," she Tweeted on Tuesday.
Lee and Hartzler, a therapist, tied the knot in Little Rock, Ark. in May 2007.
— Anya Leon