Monica Potter: Why My Daughter Can't Watch Parenthood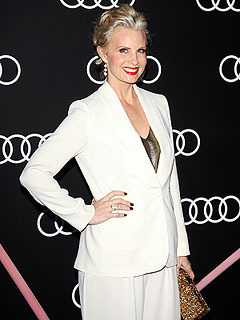 Michael Tran/FilmMagic
Monica Potter captivated viewers with her character's cancer battle on the fourth season of Parenthood, but one fan couldn't take the dramatic story arc: her daughter Molly, 8.
"She got very upset!" the Golden Globe nominee, 42, told PEOPLE on the red carpet Thursday. "She watched through the first episode of the season and I saw her little eyes well up, and I just turned it off."
Potter, 42, was on hand for the AUDI Celebrate Golden Globes Weekend event at Cecconi's. The mother of three (son Liam turns 19 this month, while eldest Danny is 23) said that despite attempts to shield her young daughter from the spotlight, Molly is aching to join the family business.
"She comes to the set a lot now, and she gets it," Potter, who was wearing a white Max Mara suit and gold Irene Neuwirth jewelry, tells PEOPLE.

"My oldest two know what it is that I do for a living, they've been on the road with me now forever, but Molly I've kept away from it … and now she wants to act."
It sounds like she's ready for her close-up: Potter joked about Molly's "spot-on" imitation of her stylist.
"She had the full get-up on, and I almost peed my pants!" the star said. "I was like, 'I wish I could take a video of this!' She had the accent down, the mannerisms, it was amazing to watch."
As for the emotional performance that upset her daughter but impressed The Hollywood Foreign Press Association?
"I really took that arc very personally," said the actress, who is up for best supporting actress at Sunday's awards. "As an actor it helped me grow so much, and I was just happy that I was able to tell a story that these writers and my fellow actors created … I was so lucky to even be a part of it."
— Michele Corriston with reporting by Reagan Alexander