Sherri Saum Is Expecting Twins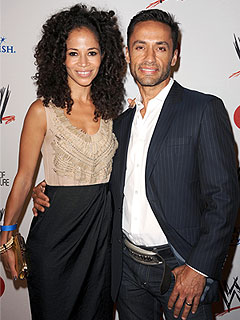 Jason LaVeris/FilmMagic
Shortly after Sherri Saum discovered she was pregnant, the actress got the surprise of a lifetime: she was expecting twins!
"Thrilled" to be having a baby together, Saum and her husband Kamar de los Reyes, who formerly starred with her on One Life to Live, went for a second ultrasound and were told some unexpected news.
"We were like, 'Awesome — a baby!' And then the next ultrasound the doctor said, 'Uh … looks like there's a freeloader in there hiding,'" The Fosters star, 39, told Access Hollywood.
"I was just in shock for about two weeks. My husband and I were like, 'This is really happening!'"
Now five months along, the mom-to-be is anticipating the babies' May arrival. "They say with twins they may come early, so I don't know," she says, adding that they know the sex of the babies but aren't sharing.

Until then, Saum can be found getting her fill of her favorite pregnancy treat. "[My morning sickness is] totally gone and all I want to do is eat bread all day long," she jokes.
The winter premiere of The Fosters airs Monday at 9 p.m. on ABC Family.
— Anya Leon