Julie Bowen: I Don't Want a Full-time Nanny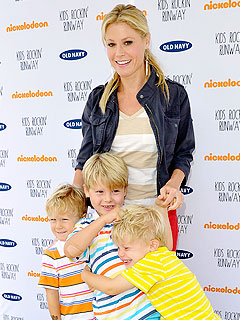 Michael Simon/Startraksphoto
Julie Bowen may be outnumbered by her brood of boys, but it's a challenge she's willing to accept — without any full-time hired help.
"We definitely go nanny-free far more than my husband would like and that started with us … on the weekends," the Modern Family star, 43, tells PEOPLE.
"I'm not a saint and that's not to say we have never had a scoch of help on the weekends, but we never had anyone regular."
However, her steadfast commitment to raising her sons — 6½-year-old Oliver and 4½-year-old twins John and Gus — was not one initially shared by husband Scott Phillips.
"I felt that it was important — and I forced my husband into this line of belief — that we do have three kids and we need to know how to be with three kids," she says.
"I know many families who have one child or three or four children and the thought of being alone with them for a weekend is pure hell. Now, I'm not going to say it's not, but we at least know how to do it and I think it's important to maintain that."
Now the frequent family time is "actually pretty fun," and with all three boys becoming increasingly independent, Bowen admits motherhood is much more manageable.
"I can leave all three of them playing in a room and go make dinner," she explains. "Eighteen months ago that wasn't possible because one of them would start crawling up something to jump off — they couldn't use any common sense."
Not only have they matured, but the boys have each come into their own — which, for the twins, means displaying their polar-opposite personalities.
"I would say Gus and Oliver, his older brother, are very similar and John is his own person. [John's] either going to run the world or blow it up," Bowen shares. "He's a very special, special guy. He just doesn't think like the other two, the other two are very extroverted and they get a lot of their satisfaction from external sources and John seems to generate his own."
One thing the boys can all agree on? Having their mama at home!
"Emotional blackmailing and manipulation is in full swing. When I have to go to an event, out to dinner or to work sometimes, I get a whole lot of blow back," Bowen says.
"Barring the door, weeping in the driveway, demanding candy — 'I demand candy or I will never stop crying' — and that is a lot more difficult to deal with."
— Anya Leon with reporting by Caryn Midler