Ivanka Trump Feels Like a 'Pro' at Parenthood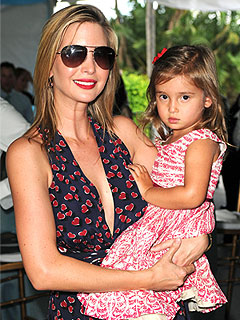 Larry Marano/Getty
Even though sleepless nights lasted just a short period with new baby Joseph Frederick, Ivanka Trump admits life with a second child has meant a lifestyle change for her and husband Jared Kushner.
"I have to compartmentalize everything now," Trump, 32, told PEOPLE at the Trump Invitational Grand Prix charity event held at her family's Mar-a-Lago Club in Palm Beach on Sunday. "I try and think of ways to connect things."
Yet, Trump, who is Executive Vice President of Development and Acquisitions at the Trump Organization in New York and an independent fashion designer, loves every minute of her time with Joseph, now 3 months, and 2-year-old Arabella Rose. It just requires planning and using her experience from her daughter's younger days.

"I was more nervous about how I would deal with Arabella than I have been with Joseph," Trump shares. "Now I am familiar with timing and balance as well as bathing, diapers and how to hold a baby without fear of an accident. I feel like I am now a pro!"
Calling Kushner "the best father," both parents try to include the children in most everything they do. For example, in Palm Beach on holidays and many winter weekends, they all go to the pool and beach.
In New York, it's more about enjoying the parks and walking. "We love to go on adventures and play games and pick leaves," she continues."We do things together as a family. And it's so cute to watch Arabella hold her baby brother — she is very protective."
Trump, who is in the process of redesigning the interiors of the Doral Golf Resort & Spa in Miami, knows she is lucky to work in the family business where she can bring the children to the office.
And when she travels on longer business trips, she takes Joseph and Arabella along. "It gets harder and harder to even think of leaving them," Trump says.
"I worried too much the first time around about how I would handle everything. Now I know how fast these early days go by, and I want to enjoy every second. I love it."
— Linda Marx