Jessica Simpson Shares New Pic of 'Snuggle Bug' Son Ace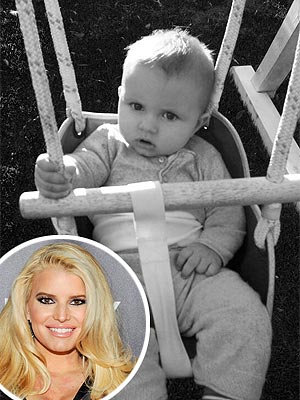 Courtesy of Jessica Simpson
Jessica Simpson doesn't just design to-die-for shoes and handbags — her babies are pretty covetable, too!
The singer and fashion mogul showed off a new pic of her son, Ace Knute, on Twitter on Saturday, and the 6-month-old looks adorable. "My snuggle bug…" she captioned the pic of her little man sitting in a swing.
Simpson, 33, and her fiancé, Eric Johnson, 34, also have an 18-month-old daughter, Maxwell Drew, and they welcomed their second child in June.
"I'm so excited to have a son," she said at her baby shower last April. "I didn't grow up with a brother and I think the unknown is really exciting. I can't wait to have that connection with our little man."

Simpson, who's planning her wedding to Johnson later this year, is back to her pre-pregnancy weight and credits Weight Watchers, as well as her children, with helping her get back on track.
"With both kids I'm running up and down my stairs a million times," she told USA Today. "Kids can keep your metabolism going."
— K.C. Blumm