Amanda Beard's Blog: Diving Into the Holidays and New Year
Thanks for welcoming our newest celebrity blogger, Amanda Beard!
The seven-time Olympic medalist first appeared on the sports scene at the 1996 Atlanta games, walking away with her first gold for the medley relay and two silvers for the 100 and 200-meter breaststrokes — all at the age of 14.
Since then, the competitive swimmer scored a bronze medal at the 2000 Sydney Olympics, and her first individual gold medal along with two silvers at the 2004 Athens games.
Beard, who is sponsored by Aqua Sphere, recently penned her memoir, In the Water They Can't See You Cry.
She and her husband Sacha Brown married in May 2009 and are the proud parents of son Blaise Ray, 4, and daughter Doone Isla, 6 months.
Beard can be found online on Facebook, Instagram and Twitter @AmandaRayBeard.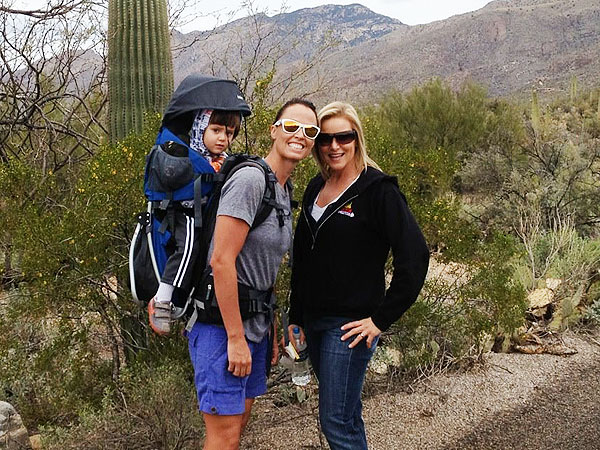 Courtesy Amanda Beard

Happy Holidays, friends!
In addition to Christmas and New Year's, this month marks several important milestones in our family.
First of all, happy six-month birthday to our beautiful girl, Doone. Ever since you came into our lives, your everlasting smile has made our lives better. You've totally stolen our hearts; life with you is incredible.
Second, a big thank you to our resident superhero, Blaise, who is coming into his role as a big brother like a champ. Earlier this month, he asked me to show him how to make a bottle so that he can prep a bottle and feed Doone. His helpfulness and love for his sister impresses me every day, making him the sweetest superhero that we know.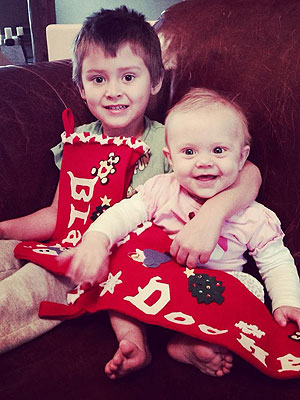 Courtesy Amanda Beard
Third, I am happy to report that I am so close to reaching my pre-Doone weight, and although trying to lose weight during the holidays can be difficult, I'm determined to make it through.
For every mom out there trying to get back in pre-pregnancy shape — or those just looking to stay in shape during the holidays — behold: my practical wisdom for obtaining your fitness goals.
Set smart goals. I've been setting SMART goals ever since I became a competitive swimmer. SMART stands for Specific, Measurable, Attainable, Relevant and Time-bound.
My current SMART goals include:
Losing the last 10-15 pounds of my baby weight by March, when Doone is nine months old
Swimming competitively again in six months
I plan to obtain these goals by swimming and weightlifting six days a week, being active with my family, and eating as many whole foods as I can.
Switch it up. I've been swimming for 28 years, so keeping things new, engaging and fun is key to achieving results. While I'll always continue to leverage my tried-and-true training workouts, like using Aqua Sphere's aquatic exercise gear to practice my stroke and speed, I really try to switch up my cross-training fitness interests a couple times during the year to stay interested.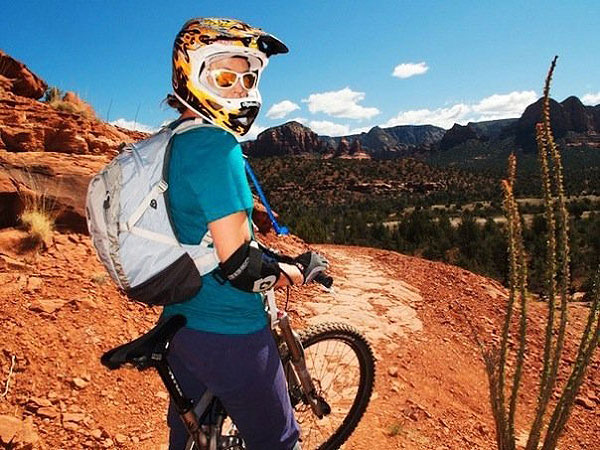 Courtesy Amanda Beard
Recently, I've been training with my local U.S. Masters team, doing hour-long CrossFit classes and mountain biking on the trails behind my house (although, fellow mountain bikers, take caution: my riding nickname is "Crash").
Quality over quantity. One of the biggest challenges in training for Rio 2016 is finding someone to watch the kiddos, so I champion this statement as it applies to fitness and training.
Pool sprints, CrossFit and circuit training are all incredible workouts that don't require hours of commitment each day. These quick, high-intensity workouts are a 2014 fitness trend for a reason: they're a super effective way to achieve results.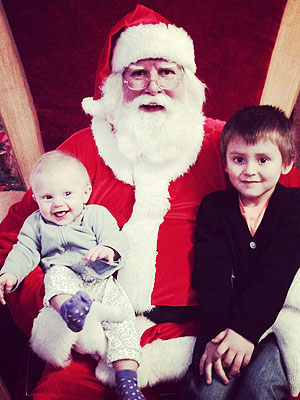 Courtesy Amanda Beard
Fitness is a journey, not a destination. My outlook on training for Rio 2016 has changed dramatically compared to previous years, when, like most Olympic athletes, I was known to let training consume and stress me out.
Since this is most likely the last time that I'll be training for an Olympic games, I'm much more relaxed.
Here's my plan: Make my workouts count, kick butt for my family and my sponsors like Aqua Sphere, stress less, and smile the whole time. My focus has shifted (hey, any mom will tell you that!), but my determination to dominate remains solid.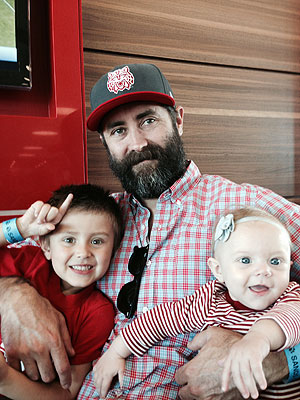 Courtesy Amanda Beard
Last but not least, we're excited to celebrate our first Christmas as a family of four. While shopping for babies is fun (who doesn't love gifting swaddles and baby headbands?), shopping for moms is a little trickier.
Thus, you'll find a list below of my favorite things that are perfect for the fit mom in your life. Move over, Oprah!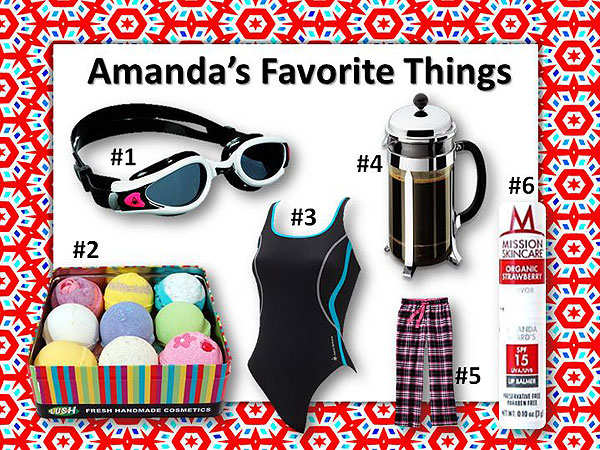 Courtesy Amanda Beard
Aqua Sphere's Kayenne Ladies goggles ($27.95): Aqua Sphere's Kayenne Ladies goggles feature a 180-degree view of the pool, have an easily-adjustable band, are 100 percent UV protected and won't fog or scratch. Plus they won't leave those annoying goggle rings around your face!
Bath Bombs by Lush ($4.95): Lush makes bath bombs that come in the cutest shapes and colors. I stock up on these before Christmas to give as gifts each year.
Aqua Sphere's Ursula swim suit ($64.95): Ursula is an ideal swim suit for an active swimmer that wants to be comfortable and perform great in and out of the water.
French press coffee maker ($49.95): All I can say is "YUM!!!" and bring on the caffeine!
Comfy Pajamas: It's a tradition in our house that everyone gets new pajamas every Christmas Eve, just in time for cooler weather.
Mission Skincare Organic Strawberry Lip Balm ($2.38): Mission Skincare is a line of products developed by professional athletes. I worked with the development team for this product, knowing that SPF and major moisture are key lip balm ingredients for in the pool and out!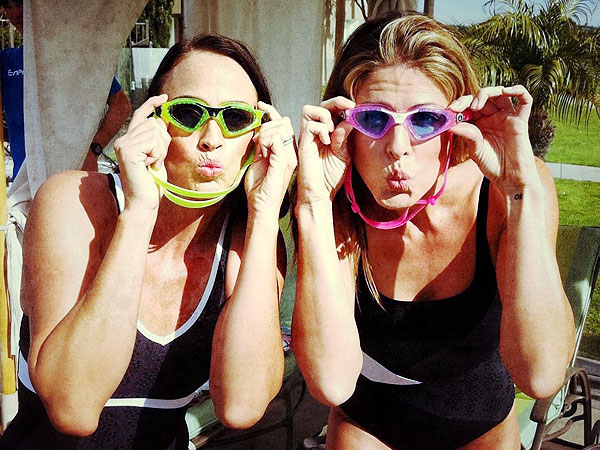 Courtesy Amanda Beard
I wish you all a truly happy holiday season and New Year. I'll be back in 2014, and am looking forward to talking more about New Year's fitness resolutions.
I'm even more excited to share news about a product that I'm working on with Aqua Sphere.
See you next year!
— Amanda Beard
Amanda is an Aqua Sphere-sponsored athlete and the co-founder of Mission Athletecare.