It'll Be a Girl for Anna Trebunskaya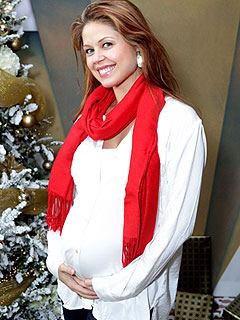 Tiffany Rose/Wireimage
Anna Trebunskaya is thinking pink!
The baby the Dancing with the Stars pro is expecting in February will be a girl, her rep confirms to PEOPLE.
Trebunskaya shared the sex during her baby shower by cutting into a cake to reveal the pink filling.
"Thank you Sweet Es Bake Shop for my gorgeous & yummy baby shower cake. What a great way to reveal that I'm having a girl! #itsagirl," she wrote along with a snapshot of the decadent dessert.
She later Tweeted, "Thank you so much for all the congratulations and well wishes. Blessed to have all the support and love from u."
After announcing her pregnancy in September, the Russian performer, 32, admitted she was still undecided on finding out the sex.
"It's a bit of a pain for my friends and my family, but I'm like, 'No, let me get the baby gear first,'" she told PEOPLE.
And although the mom-to-be didn't keep the sex a surprise, she still stands strong on her decision to name her daughter after her arrival.
"I have about five girl names … I want to look at the child and be like, 'That's who you are,'" Trebunskaya, who plans on giving her baby girl Russian and American names, recently told PEOPLE.
— Anya Leon with reporting by Monica Rizzo