Soleil Moon Frye: How to Make a Holiday Snow Globe
To get an idea of how many arts and crafts projects Soleil Moon Frye works on with her two daughters, Poet, 8, and Jagger, 5, just take a look around their L.A. home.
"Our tiles are covered in paint. If you look under our couch pillows, there is paint. Our table is covered in paint," says the expectant mom-of-two. "It's very, very messy, but that's the fun of it."
That fun reaches North Pole-like levels on Christmas Eve, when the former child star, 37, and her husband, producer Jason Goldberg, 43, host a holiday blowout — complete with a crafting area for the littlest guests.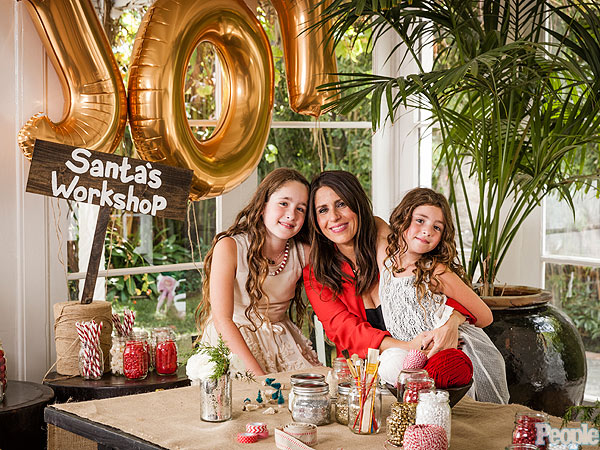 Marc Royce

"We always have a 'Santa's Station' set out with space for the kids to draw and create," says Frye, who recently released her book Let's Get This Party Started: DIY Celebrations for You and Your Kids to Create Together.
"We go crazy on holidays. We get little picture frames to decorate. We'll make garlands that we decorate with lots of glitter. And homemade snow globes are a really good Christmas craft."
Want tips on how to make Frye's snow globes? Click below for instructions.
— Antoinette Coulton; Raha Lewis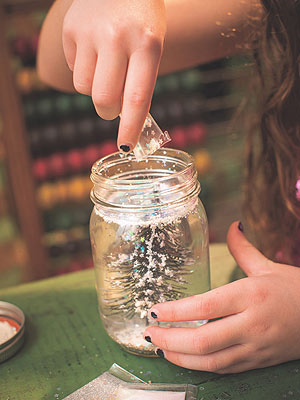 Meeno Poluce
Make Your Own Snow Globes!
What You'll Need | 1 mason jar or clear plastic lidded container, 1 toy tree, Gorilla Glue or glue gun, 1 to 2 cups distilled water, 1 tbsp. glycerin, 1 to 2 tbsp. glitter
1. Gather all the supplies. Wash and dry the mason jar or clear plastic container.
2. Attach the base of the tree to the inside of the container using the Gorilla Glue or glue gun. Let dry for 1 to 2 hours.
3. Add distilled water and glycerin until the mixture is about an inch from the top. Sprinkle glitter into the jar.
4. Screw the lid onto the jar. If you are using a plastic container, seal with glue to prevent leakage. Shake and enjoy!
Adapted from the book Let's Get This Party Started by Soleil Moon Frye, in stores now. For more holiday entertaining ideas and recipes, check out PEOPLE's Entertaining Special, on newsstands now.
Related Video: Christmas Craft Ideas From Soleil Moon Frye