Hilary Duff: My Feelings Get Hurt If Luca Favors His Dad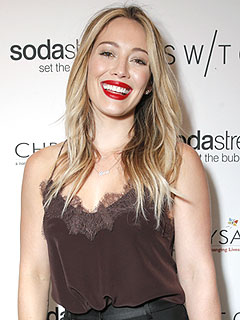 Todd Williamson/Invision for SodaStream/AP
Her 20-month old son Luca Cruz has always been mommy's little guy, but it only took a recent holiday shopping excursion for Hilary Duff to see that husband, Mike Comrie, is making headway in the toddler's heart.
"[Luca] could not get enough of Mike!" the actress told PEOPLE while attending the SodaStream shopping event hosted by Lea Michele.
"It was crazy, but it goes along with who gets him up from his nap because he's more obsessed with the person that wakes him up. But my feelings were so hurt!"
Fortunately for Duff, it's the type of knee-jerk jealousy that is short-lived.
"Mike is such a great dad, and we both do our fair share," the 26-year-old says.

"And it's just so great to have that partnership, but I was like, 'I'm your mommy!'"
And while there will be those days when Dad tops Luca's charts, and those days when Mom is still number one, the lone constant is the joy that their toddler brings to the couple.
"He can fake burp now!" Duff says with a proud laugh. "He can fake sneeze. When we're like, 'Hey, Luca, are you thinking about it?' he'll scratch his head and look like he's thinking about it."
She adds, "As much as I think that he's going towards that hockey route, he's such a little actor!"
Though there are those times that little Luca may be a bit too much a chip off the old block.
"What's funny is that every time he throws a tantrum everyone in my family is like, 'Oh, he got that from Hilary!'" Duff admits. "And I'm like, 'When did I get the bad rap around here?!'"
The occasional tantrum aside, there's no mistaking the effect that becoming a mother has had on the girl once know as Lizzie McGuire, nor the high hopes that she has for her son.
"Honestly he is the biggest blessing in our life," Duff says. "It's so odd, he's actually funny. He has the best sense of humor, and he has really good hair, so I think the girls are going to like him."
— Reagan Alexander
Flaskback Video: Hilary Duff's Unexpected Proposal