Baby Girl on the Way for Larry Hernandez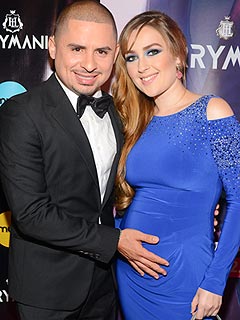 Araya Diaz/WireImage
It'll be a girl for Larry Hernandez!
The regional Mexican singer, 36, and his girlfriend of five years, Kenia Ontiveros, 22, revealed the sex of their second child on Sunday's season two finale of his mun2 hit reality series, Larrymania.
"I am thrilled that it's going to be a girl!" Hernandez tells PEOPLE exclusively, adding that he and Ontiveros were both surprised to learn they were expecting a daughter.
"A lot of people said it was going to be a boy," Hernandez says.
And Ontiveros, who's currently 36 weeks pregnant, adds: "All of our family and friends said it would be a boy — even Larry thought so … When I found out it was a girl, I was shocked," she tells PEOPLE.
Ontiveros recalls the day she shared the happy news with Hernandez.
"Larry was on tour at the time and asked me not to tell him over the phone, but rather in person," she shares. "When I saw him at the airport, I asked him to take a guess. He quickly replied, 'It's a boy' and I said, 'No, it's a girl.'"
She adds, "He was very surprised, but he was also completely overjoyed."
Hernandez says he would've been happy "with a boy or a girl" and says "the most important thing is that we give birth to a healthy baby."
The baby, due in late December, will be the second child for the couple, who are already parents to 3-year-old daughter Daleyza.
Hernandez — also dad to sons, Larry Jr, 11, and Sebastian, 7, from a previous relationship — is looking forward to balancing out his brood. "I'm happy because I have my two sons and now I'll have two daughters," he says.
Adds Ontiveros: "He's excited that Daleyza will now have a little sister to play with."
As for baby names, Ontiveros has a few contenders in mind. "We like Dalary and Dayana. Larry likes names [that start with 'D']. We also like Victoria," she says.
— Lee Hernandez