Evelyn Lozada Expecting Second Child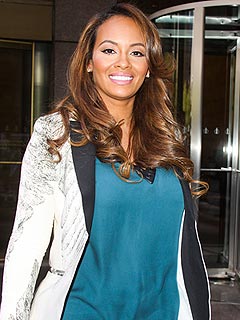 Roger Wong/INF
Basketball Wives star Evelyn Lozada has a little bundle of joy on the way!
"I am so excited to announce a wonderful blessing — I'm pregnant!" the 37-year-old tells PEOPLE exclusively, confirming that she is six months along.
Lozada, who divorced Chad "Ochocinco" Johnson in 2012, after just two months of marriage, says she has been planning to have a baby for years and even talked about it on her reality show. So she was overjoyed when she took an at-home test and learned she was pregnant.
Lozada is keeping the identity of the baby's father a secret at the moment.
"I'm excited about being a mommy all over again," adds Lozada, who has a daughter, Shaniece, 20, from a previous relationship.

"This is something I've been wanting for years and I can't believe it's finally happening."
The proud mom-to-be also took to Facebook, where she posted a photo of her cradling her precious baby bump, along with the caption: "New Beginnings."
— K.C. Blumm with reporting by Lee Hernandez