Kristin Cavallari: We're Keeping Baby's Sex a Secret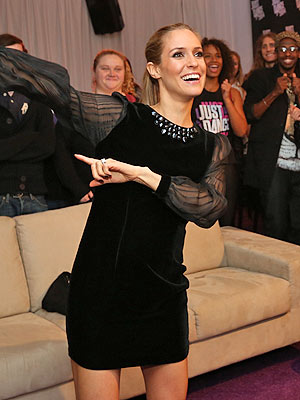 Casey Rodgers/Invision for Ubisoft/AP
Kristin Cavallari has at least a couple of things to be thankful for this Thanksgiving — a baby on the way and a relatively easy pregnancy.
"I've been really tired, but I'm very lucky because I haven't had any morning sickness," the 26-year-old told PEOPLE at Ubisoft's Just Dance 2014 Thanksgiving Dinner in Hollywood.
However, the mom to son Camden Jack, 15 months, says her pregnancy has been more difficult in other ways.
"It's harder because I'm tired, and then I still have to be a mom to Camden and chase him around — he keeps me on my toes a little bit," she explains.
"But it is easier in the sense that I know what to expect, and I have all of my maternity clothes already. All of that stuff is done, so that's nice."
Despite the upcoming holidays, the former reality star is focused on staying healthy through her pregnancy — for the most part.
"I'm a pretty healthy eater, although I went through a really heavy sugar phase for about two weeks, and then I had to back off a little bit," she says. "First trimester for both of my pregnancies has been a lot of carbs and sugar, and then in the second trimester I snap out of the tiredness and can start eating healthy again and working out a little bit more."
Her fitness regimen now consists of "Pilates a couple of times a week, and the StairMaster and light weights."
As for the sex of her baby, Cavallari doesn't know it yet, but says she would be happy with a boy or a girl.
"Of course I want a little girl, but another boy would be a ton of fun too, so I really don't care either way. There's great things about both."
But don't expect to find out what she's having any time soon. "We're going to find out, but we're not going to tell anybody, so it will be a surprise for everybody else!"
— Gabrielle Olya
Flashback Video: Kristin Cavallari Feels Comfortable in Bikinis