Elisabeth Röhm's Blog: Where a Love of Learning Can Lead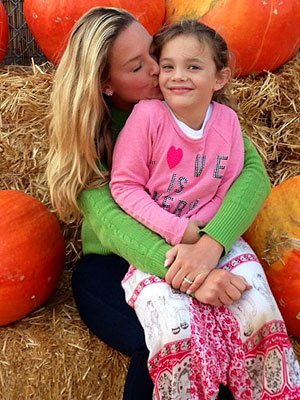 Fall kisses – Courtesy Elisabeth Röhm
Elisabeth Röhm, best known for her roles as Serena on Law & Order and Kate on Angel, has been blogging for PEOPLE.com for over two years now.
The actress, 40, most recently played Taylor on The Client List, and will next star as Dolly in David O. Russell's latest film, American Hustle, to be released Christmas Day.
Her book, Baby Steps: Having the Child I Always Wanted (Just Not As I Expected), was released in April.
She can be found on Facebook, Google + and on Twitter @ElisabethRohm.
In her latest blog, Röhm — mom to 5½-year-old Easton August with fiancé Ron Anthony — recalls her late mother's love of learning and shares how she's saving for her daughter's future.

My mother died at the age of 60. Easton was just two years old. Of course, I feel my mother's presence, encouragement and inspiration hourly.
But what of Easton, who knows my mother only through my storytelling and references to heaven? She's almost a story herself, a thing of legend. And yet, when I hear Easton talk about my mom, I know I'm doing a great job of keeping her memory alive.
Easton is truly missing out in not knowing my mother Lisa in the flesh, but I talk about her all the time. Now that Easton is older, she asks all the time about my own childhood, about Mom and me. Not to mention, everything she was is in me and her memory breathes through me. If you've lost a parent you feel me, right ladies?
Sometimes when I caress Easton's hair, I see my mother's hands in my own. When I hug my daughter, I feel my mom's arms around me for all the 37 years we shared together. When Easton and I talk from the heart and really get down to the nuts and bolts of things, I recall my mother's incredible gift of communication.
Most importantly — this one affects us moment to moment — when I'm down and frustrated or joyful and inspired, I always have my love of life, information and knowledge as a touchstone. My mom was and will always be the smartest person I ever knew. She never gave up her interest in learning and participating.
I was lucky enough to be the benefactor of that cultivation. It is something I value and that I'm trying to pass on to Easton like a bright exciting torch. Saving for college is a top priority for my family and for Easton's future and to encourage more people to prepare financially for college like we did, I'm working with Upromise by Sallie Mae.
It's important to create a plan and savings goals and you can supplement your savings using a program like Upromise, from which you can earn money back for your college savings when you need to spend.
Easton's other grandmother is my stepmother Jessica, who is also a person that you will never catch without a book nearby or in hand (she's also saving for Easton's college experience).
So, the good news is that both of Easton's grandmothers are insatiable students and share in their different ways a thirst for life and endless quest in their curiosity. I think of the value of knowledge and the excitement my mother and stepmother stimulated through their love of books and words with gratitude.
My mama (that's what Easton calls me still) delighted in poetry and literature, history, theology and science. My mother was someone who craved information. I'll never forget how we pored over our Encyclopedia Britannica. Do you have those? Note to self: get them for Easton!
We would pick one of the many volumes and open to a random page where we could dive in and learn about absolutely everything. I'm sure all of that reading and love of discovery awakened my creativity as a writer and actor. Ultimately leading the desire to not only break through all my academic barriers of ADD and cyclones of distraction, but also the complicated feelings that consumed my heart regarding my parents' divorce. Needless to say, those issues made learning very difficult for me at times in school.
Because of my mom, I persevered and made it to college. And because of Mom I graduated from Sarah Lawrence College (the finest source of education for someone like me). Every step held its challenges — I'm sure you will agree if you are in college, hope to go, or are paying off loans and the memory still lingers.
For me, the memory of college lingers too. Not only was it the most incredible gift my mother inspired me to value and that my father paid for, but also a gift of a lifetime as I've maneuvered through my pursuits both professionally and personally. That's why I support Upromise as it can help families across America achieve their dreams of going to college.
Singlehandedly, I credit graduating as my ticket for making it as an artist. I'd stand before a director in an audition with my nerves jangling about and think, "Shoot, I graduated from college — that's a lot harder than this audition!"
Confidence. Those years buy you a truck load of that!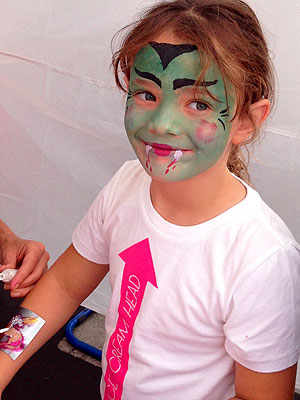 Facepaint – Courtesy Elisabeth Röhm
Mom was a gifted student, but when she met my dad she became a college dropout. Still, she remained a student and taught me everything she knew or we learned together. Like I said, there are books she read to me as a child that birthed my love of storytelling, character, and moral dilemma (which is ultimately what movies and TV are all about). She did a great job with that.
She was always reading. Coming into her bedroom at any given time, there would be a pile of books on her nightstand or her nose would be buried in a good one and all I could see was her furrowed brow above the edges. Always worried when she'd have a furrowed brow (right?!), she'd scoop me up to ease my mind and tell me all about what she was reading. I try to remember to do the same with Easton. I try to share my delight in learning like Mom did.
My mom did the brave thing of going back to school when I was 8, got financial aid and made her dream of college happen although the debts for her were challenging as a single parent. Her struggles have taught me a lot, so I'm saving for Easton's education wherever she chooses to go with Upromise. Now that I'm a mom I can only imagine the sheer courage it took to get it all done every day. To go out on that limb.
And SLC never let me give up on myself either. From the Donning system, to the conferences and the incredible financial aid, quitting was not an option. I believe that everything I've accomplished stems from the confidence that my college, my mother's college and — hopefully if Easton lets me control all her choices (which we know will never happen) — could be Easton's college of choice too.
We talked about it the other day and she shut me down. Thankfully, I have 10 more years to plead my case. I will always be indebted to Sarah Lawrence for giving me a place to grow my mind, heart and soul. It's a place I return to again and again.
I know between Jessica and I we will make up for my mom not being here to awaken Easton's thirst. Thankfully, she seems to have that curiosity. Well, I think we all do.
Although, on this almost anniversary of my mom passing, I'm sad too that Easton will never hear the soft lilt of my mother's beautiful southern accent as she would read from a classic or perhaps the encyclopedia as she did with me so long ago.
My stepmother's motto is, "Whatever you can do or dream you can, begin it, boldness has genius, power and magic in it." — Goethe (a writer I discovered at college).
So, let's all take a step forward towards making that dream of learning easier for ourselves and our loved ones, possible and something we can't live without … something we never stop.
Until next time,
— Elisabeth Röhm
More from Elisabeth's PEOPLE.com blog series:
Elisabeth Rohm was a paid spokesperson for UPromise from June to October.
Elisabeth Rohm: 'Jeremy Renner Is the Hottest Guy I've Ever Worked With'