Kelly Clarkson Expecting First Child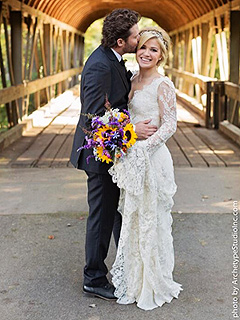 ArchetypeStudioInc.com
Kelly Clarkson, who recently said she really "digs the mom thing," is a woman of her word: she's pregnant!
The singer, 31, and her husband Brandon Blackstock are expecting their first child together, Clarkson announced Tuesday on Twitter.
"I'm pregnant!!! Brandon and I are so excited! Best early Christmas present ever," she Tweeted.
The big news comes four weeks after she and Blackstock ditched their lavish wedding plans and instead tied the knot in an intimate ceremony in Tennessee.
Amid rumors of a baby on the way, Clarkson hinted at the possibility during a recent appearance on The Tonight Show.
"We are not announcing anything right now! We're not, no," she said with a smile. "Practice makes perfect! We're trying, trying, trying … like rabbits!"
Although it's her first pregnancy, Clarkson is no stranger to parenthood, having spent ample time with Seth, 6, and Savannah, 12, Blackstock's children from a previous relationship.
"My kids love her," Blackstock's ex-wife Melissa told PEOPLE in October. "I couldn't ask for a better stepmother for my children."
At the time the American Idol winner Tweeted her engagement news, she called her then future husband "the greatest man ever."
Related Video: Kelly Clarkson: I Never Thought I'd Get Married