Colts QB Andrew Luck Shares How to Throw a Killer Spiral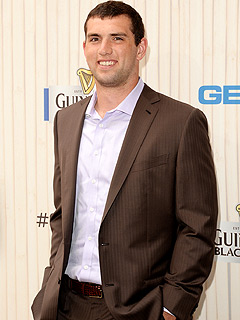 Jason Merritt/Getty
Who says moms can't throw the perfect spiral? Certainly not Indianapolis Colts quarterback Andrew Luck, whose mother was a very active participant in his professional football trajectory.
"Some of the things I fondly remember about growing up were waiting for my dad to come home from work and throw the football," he says.
"And if my dad couldn't do it, we'd drag my mom out there. It was always about being active. And there was never 'You have to do this to become a professional quarterback.' We did it because it was fun."
Not too comfortable with a football? Luck, who is one of the most talked about quarterbacks in the NFL right now, has created a cheat-sheet for a great game of catch.

"You don't want to grip the ball too hard, you don't want to grip it too soft," he tells PEOPLE. "Put your fingers where it feels comfortable on the ball. Your thumb will be on the underside of the ball, you'll have your ring finger and maybe your pinky on the laces."
Next, if you're right-handed, point your left shoulder at your target, step with that left foot, and open your hips at the target.
"When you're throwing, try to keep that ball sort of high, hold it high right under your chin or back by your right shoulder," he says. "Just sort of throw the ball. The last finger to touch the ball should be your index finger and that's what creates the spiral."
Then, the most you can do is hope for best — or "say a couple of Hail Mary's," he says with a laugh.
The 24-year-old can't stress enough how important it is for parents to encourage an active lifestyle, that's why he's partnered with Quaker Oats and Fuel Up to Play 60 for their Make Your Move Contest, which invites parents and faculty to film videos of students getting active for a chance to win a 15,000 grant for their school (the deadline for submissions is Nov. 27). For Luck, athletics and education have always gone hand and hand.
"To me school was always as important as athletics," says Luck, who studied architectural design at Stanford University. "My parents encouraged us to do well in school so I'm thankful for that as well."
It never hurts to have a back-up plan, just in case the whole professional athlete thing doesn't work out. When he's not making plays on the field, Luck uses the practical skills he learned in school to kit out his Indianapolis abode.
"We designed a murphy bed in my guest room," he says, adding that it's where his houseguests sleep. "I can't claim credit for building it but I designed it."
Luck is happy to take some credit if the Quaker campaign helps get kids get off the couch and get moving. He's also committed to helping judge the video submissions, which could be as simple as students shooting hoops or rocking out on the dance floor — even though, he admits, Dancing with the Stars will never be in his future.
"I'm awful on the dance floor," he says. "I will be very critical of all the dancing videos, even though I'm a terrible dancer."
— Amy Jamieson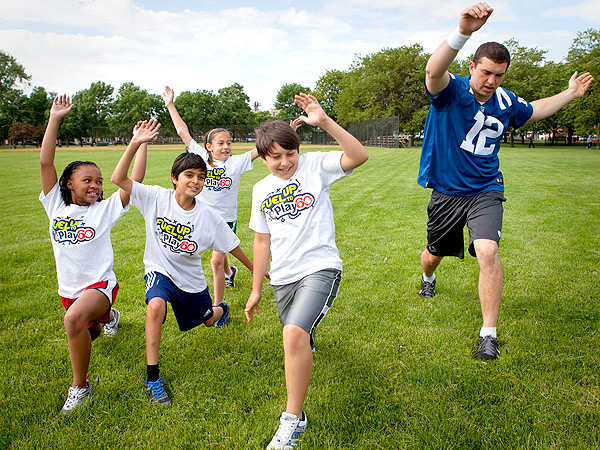 Courtesy Quaker Oats