Gavin Rossdale: My Sons Always Keep Me Laughing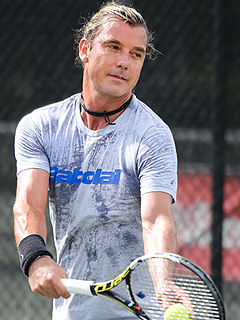 Larry Marano/Getty
Being a hands-on dad to a pair of animated young boys involves a great deal of time for Gavin Rossdale, but the Bush rocker loves every minute of it.
"Our trips to the park and soccer fields are filled with games and laughter," Rossdale, 48, told PEOPLE during the Chris Evert/Raymond James Pro-Celebrity Tennis Classic gala at Florida's Boca Raton Resort & Club on Saturday.
"Kingston and Zuma are funny and so great to be around. They enjoy playing together and just love each other."
Rossdale, a talented and competitive tennis player, comes to south Florida at the beginning of the holiday season each year to participate in Evert's charity event, which has raised more than $20.6 million for the state's most at-risk children.
While his performer wife Gwen Stefani remained home caring for Kingston, 7½, Zuma, 5, and the family Pomeranian Chewy, the singer and rhythm guitarist made some music with a few rescue dogs during a post-tennis match adoption program in Delray Beach.
Interacting with the dogs and encouraging adoptions before the Thanksgiving and Christmas holidays put a wide smile on Rossdale's face.
Meanwhile, he and Stefani are planning their own "exotic" Thanksgiving, followed by a warm weather Christmas with the family.
"We alternate between going back to London for an old-fashioned European holiday, or staying in Los Angeles for outdoor fun," Rossdale tells PEOPLE. "This year, we will be in Los Angeles because the weather is nice and mild. We're up for that and look forward to it."
— Linda Marx
Related Video: Gwen Stefani and Gavin Rossdale Do Disney