Melissa Rycroft: I'm Having a Boy!
Break out the blue confetti!
Reality star Melissa Rycroft and her husband Tye Strickland are expecting a baby boy in April, she tells PEOPLE.
"I'm so excited," Rycroft, 30, says. "I feel very lucky that I get to experience the bond between mother and daughter and between mother and son. I hope he's a little mama's boy."
She adds, "I can't wait to see if he's going to be into sports like his dad or more artsy."
Having already experienced pregnancy with now 2½-year-old daughter Ava Grace, the Bachelor alum had an inkling of the baby's sex early on.
"With Ava, my pregnancy was smooth sailing," she says. "With this one, from day one I was really sick. We thought it would be a boy because it was so different!"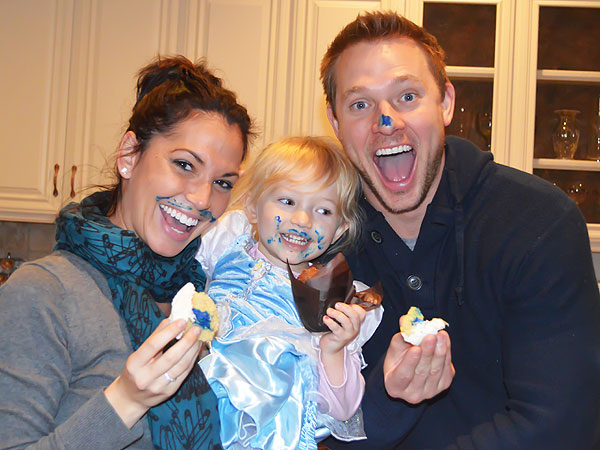 Courtesy Rycroft-Stricklands

And sick she was! Rycroft was nauseous for weeks, even throwing up minutes before a live Good Morning America segment.
"Everyone thought I was hungover for 10 weeks," she jokes. "But finally the sickness subsided and I got my energy back."
And Mom and Dad are putting plenty of energy into preparing big sister Ava for the new arrival — including letting her take the first bite of the cupcakes that revealed the baby's sex.
"She knows there's a baby in my tummy and she has a doll to take care of," says Rycroft. "But I don't think there's any way you can prepare. She's not going to get our attention all the time and she'll have to share her toys, as un-fun as that sounds."
Rycroft continues, "Her whole life is going to change. It's not just going to be her anymore — but on the other hand, there's going to be just that much more love in our family to go around!"
As for names for baby boy Strickland?
"We'll probably stick to a classic style," the mom-to-be says. "We definitely want something short and sweet that goes with Ava. Tye just wants to make sure it sounds good over a loudspeaker for when he's on the football field!"
— Aili Nahas