Chris Pratt: I Want Another Baby with Anna Faris
Chris Pratt literally dreams about the future — and he was ready to share some of those vivid visions with Ellen DeGeneres on Friday.
Topic No. 1? Baby No. 2 with wife Anna Faris.
"I did dream the other day that we had another baby," the actor, 34, told the host during a sit-down on The Ellen DeGeneres Show. "And I woke up and Anna said she'd had another dream that she was pregnant, so I was like, 'Whoa, might you be pregnant?' "
Chalk it up to a case of wishful thinking. "I don't think she is — this is not an announcement or anything," Pratt explained, adding that he'd happily give son Jack a sibling.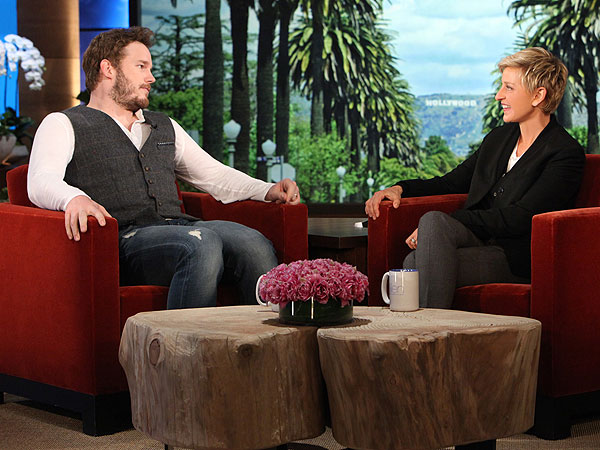 Michael Rozman/Warner Bros

"I would like more. I would have another one right away. We've talked about it. He's pretty awesome," Pratt said, as DeGeneres played clips of Jack and dad strolling together in matching navy boxer briefs with their names emblazoned on their bums. (The undies happened to be a gift from DeGeneres herself.)
"Jack's about to walk — he's 15 months but he was born nine weeks premature. He's totally healthy and fine, but it takes him a little longer to hit those developmental milestones, so they do the adjusted age. He's very sweet and adorable."
DeGeneres also flashed a Twitpic of Pratt that showed off his newly trim and buff body as he preps for his role in the upcoming superhero film Guardians of the Galaxy. (The new physique is a far cry from his portly look as Andy Dwyer on Parks and Recreation.)
Pratt certainly has no problem flashing some flesh: The actor recently revealed that he was once a a small-town stripper, and he tells DeGeneres he was actually too poor to buy sexy costumes for his act.
"It was like the very, very low-rent Magic Mike, $40 bucks a pop," he cracked while recalling his short-lived job shaking his moneymaker. "I wasn't good. I would just, like, slowly, awkwardly dance and go down to my shorts and they would go, 'No.' "
— Andrea Billups