Drew Barrymore: Pregnancy Isn't About Perfection
Beauty isn't just skin deep for Drew Barrymore.
In the December issue of Women's Health, the mom-to-be admits much of her inspiration for her makeup line comes from 13-month-old daughter Olive.
"I love doing the beauty line because it's so inherently feminine and so much of a celebration of women," Barrymore, 38, says. "I think about my daughter and how special that is to be making something that's so creative and empowering."
But while her full line of Flower cosmetics can help with confidence, Barrymore — who's expecting her second child with husband Will Kopelman — encourages expectant women to take pregnancy in stride.
"You're not supposed to look perfect while you're making babies. Making babies is the perfection," she explains.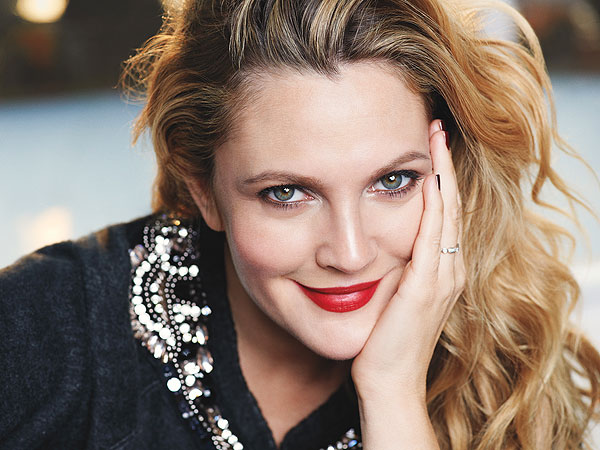 Courtesy Women's Health
"It's about feeling good in clothes and knowing you can get dressed up in the evening … but there's just no such thing as perfection. So if you're trying to get there, you're just torturing yourself."
Barrymore's growing empire also includes her own line of wine, a project she was happy to take on "because everybody loves to have a glass of wine at the end of the day." The momentary indulgence, however, does not take away from her parenting duties. "[It's] very romantic, but being a mom is first — that's now No. 1," she says.
"Everything I'm going to do is going to have a real consciousness toward, 'Is this a job I can do and still get home in time for dinner and have days where I get to do every diaper change?'"
She continues, "Then I'm going to have to go out on certain days and work and not try to feel like the guiltiest person on the planet, which every mother understands."
Barrymore (wearing American Eagle Jeggings in Dark Destroy) strives to perfect the balance, but admits there has been a sudden change in her schedules. "Work has been my priority my whole life," she says. "It feels okay to shift that priority, it feels like it's time."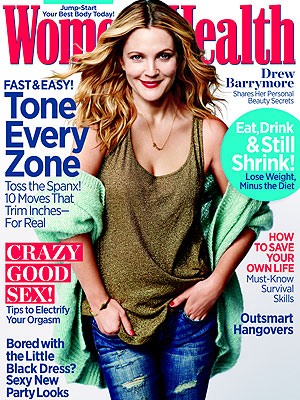 Courtesy Women's Health
As she focuses more on her family life, the protective mama is determined to give her daughter a childhood unlike her own: one that includes plenty of play.
"I didn't grow up around a lot of family. I grew up so fast and exposed to everything, and I think being a kid for as long as possible is just awesome — I would love that for my kid," she explains.
With plans to expand her family further, Barrymore has been taking a more mental approach to tackling motherhood.
"I'd love to have more kids. I think it's about being mentally healthier and then you are physically fit," she explains.
"I'm actually not really working out right now. It's a lot of fork up the food, shove to mouth, chew, repeat."
— Anya Leon
VIDEO FLASHBACK: Take a Look at Drew Barrymore's Life