Jesse Williams: I'm Suffering from Pregnancy Symptoms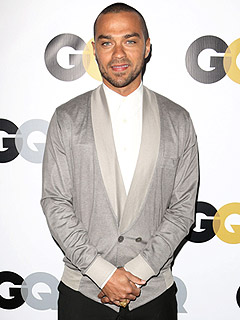 Matt Baron/BEImages
Grey's Anatomy hunk Jesse Williams may only play a doctor on TV, but the soon-to-be first-time father has diagnosed himself as having sympathy pregnancy pains along with his wife.
"I'm acquiring some of the symptoms. I've definitely put on a few [pounds]," the actor, 32, told PEOPLE at GQ magazine's 18th annual Men of the Year party held Tuesday in Los Angeles.
"I don't think I've been eating anything different. I'm just not moving … I'm just putting on pounds. I think it's a medical issue — I should ask somebody on my show," he jokes.
Williams and his wife, real estate broker Aryn Drake-Lee, 33, were married in September 2012 in Los Angeles, and their baby is due soon.

And while Williams says his wife is on "cruise control" in regard to cravings, he admits he remains in high gear.
"I'm a professional eater," The Butler actor says. "Eating is a big part of my life, and I eat legally, illegally, hunting it, finding it. It's a big part of my experience."
As is learning as much about being a new father right now. "[I'm] asking as many questions as possible of those around me that I trust, reading and just trying to get my weight up you know," Williams shares. "We're excited. We're not scared. We're ready."
— Wade Rouse with reporting by Mariah Haas