James Van Der Beek: My Wife's Pregnancy Craving 'Set Me Up for Failure'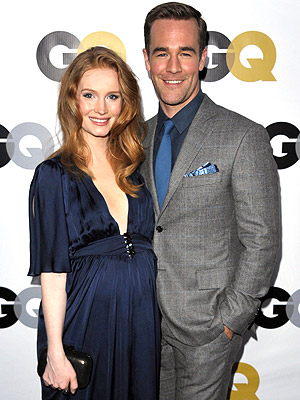 John Shearer/Invision/AP
She's due with her third child this winter, but Kimberly Van Der Beek has had very few pregnancy cravings — and only one odd food request.
"I wanted non-gelatin Gummy Bears. The only place I knew to get those was the U.K.," she told PEOPLE during GQ magazine's 18th annual Men of the Year party on Tuesday in Los Angeles.
"That was four in the morning, so I couldn't exactly get on a plane. So I was set up for failure, basically," her husband James, 36, notes.
All candy aside, the couple operates like veterans, taking the latest pregnancy in stride as they carve out precious family time with daughter Olivia, 3, and son Joshua, 20 months.

James' balancing strategy? "You just budget the time," he says. "You say, 'This is time for family' — you put the phone down. You're a little bit late responding to the emails and the texts, but it's well worth it."
Parenting two young children has left Kimberly little time for workouts during this pregnancy. "My workout is my kids," she explains, adding she's done prenatal yoga once along with just one session of Pilates.
"There's quite a bit of lifting," her proud husband says of her at-home fitness regime.
As for their current brood, the couple honors the little moments in their lives. "We're starting to be in full-sentence land," the actor shares.
"Yes, every morning Olivia comes into our room and says, 'The sun is up. It's time to get out of bed.' I don't know who taught her that," Kimberly adds.
"Not me," jokes James. "I would have taught her, 'The sun is up. Daddy, you sleep a little longer.' But she doesn't like that one."
RELATED VIDEO: James Van Der Beek: He's Bringing Sexy Bareback!
— Andrea Billups with reporting by Mariah Haas