Kimberly Van Der Beek: Olivia Has Her Bets on a Baby Girl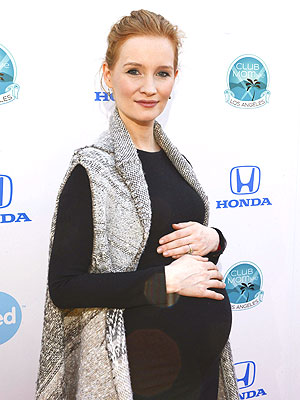 Vivien Killilea/WireImage
The countdown is on until Kimberly Van Der Beek gives birth to her third child — and everyone has been busy getting in their guesses.
And although the expectant mama and her husband James have said they have no preference, big sister Olivia has her bets on a baby girl.
"We still plan to keep the baby's sex a surprise," Kimberly told PEOPLE Sunday, ahead of her presentation at Club MomMe's Fall Fest, held at the Bel-Air Bay Club. "Our daughter has been guessing lately that she's having a sister, while most of my friends think it's a boy."
Having already experienced being pregnant with her 3-year-old daughter and son Joshua, now 19 months, Kimberly was prepared for all the pregnancy symptoms — except for a sudden onset of extreme exhaustion.

"I thought something must be off nutritionally, but I got it checked out and everything came back great," she says.
Nutrition and healthy habits are high on Kimberly's list of priorities, particularly during the holiday season when sweets are constantly within arm's reach.
The couple recently dressed up as a witch and a zombie pirate to take the kids trick-or-treating — Olivia was a cowboy while Joshua went with a zombie baby ensemble — and Kimberly quickly went to work to keep the candy contained.
"The same looking package I got in my goodie bag as a kid is now a different product. It's more the chemicals and genetically modified ingredients that scare me," she says of her kids' sugary stash from Halloween.
"In order to keep with the tradition of holiday treats, I created some fun alternatives — Halloween Anytime trail mix, pumpkin oranges and banana ghosts — that my kids helped me make. We ate them before trick-or-treating so that nobody felt the need for a quick sugar fix."
Fortunately, the soon-to-be mom-of-three is keeping the candy under control — at least for now.
"We let Olivia pick one treat when we were finished and then put away all the rest of the candy," Kimberly shares. "I've made sure to have homemade alternatives around and she hasn't even thought to ask for her bag."
She adds, "Perhaps in a few years, I'll have to come up with more clever solutions."
On Sunday, Kimberly gave a "Wellness and Green Living" presentation at Fall Fest, where new parents could browse a selection of baby gear while sitting in on several discussions focusing on family.
"Sustainability is a topic I love to discuss because it goes hand-in-hand with being a mother," Kimberly, who spoke on maintaining an eco-friendly lifestyle, says. "I hope people walk away from my talk with an understanding that sustainability goes beyond being green. It's about living simply, beautifully and in harmony with your environment — the earth, your community and family alike."
— Anya Leon with reporting by Sarah Michaud
VIDEO FLASHBACK: