Kendra Wilkinson: Hank Is a 'Team Player' During My Pregnancy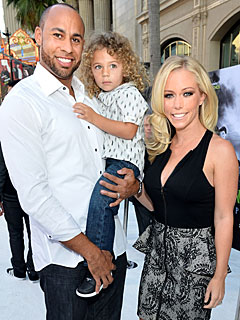 Alberto E. Rodriguez/WireImage
Kendra Wilkinson may be over the moon about expecting baby number two, but there's one thing that's keeping the reality star grounded: morning sickness.
"It actually hits me more at night than any other time," the Kendra on Top star tells PEOPLE about her "all day" sickness. "I want my energy back … and not have to be so tied up next to a bathroom."
But now that it's her second time around, the reality star has picked up a couple tips to battle the nausea as she finishes her first trimester.
"It's those little tricks like being in the cold … and I've been pushing myself to go outside every day and take a big hike," shares Wilkinson, 28. "The fresh air has really been helping me."
The expectant mom is also much more laid-back. "The first time around, I was like, 'How many months am I? What day am I at?' This time, I don't even know [exactly] when this baby is due! I have about two more weeks, maybe three [until I'm in my second trimester]."
The former Playboy model — who gained "a little over 60 pounds" and battled hypothyroidism during and after her pregnancy with her first child, Hank IV — is also trying to stay active and healthy throughout.
"I didn't realize I had [hypothyroidism] until nine months after giving birth," she shares. "Here I am working out three times a day and [having] food delivered to me … and I never shed one pound. The second I got on medication for my thyroid, all the weight just shed off."
Aside from hiking and jogging, the mom-to-be has also been eating tons of fresh foods, blending fruit smoothies and even making her own lemon-based dressing for salads.
But that doesn't mean she hasn't indulged. "Hank has been such a team player," Wilkinson says of husband Hank Baskett, 31.
"He's the one who has to deal with my symptoms and hear my problems. I already have cravings and they're very specific. As he's getting into bed, I'm like, 'I need food!' – usually cheese. Every night this happens, and if he brings up yellow cheese and not white cheese … Oh my God, go back downstairs. He's having to pay the price."
The biggest price paid so far has come courtesy of the couple's 3½-year-old son.
"Hank said, 'Be careful telling Little Hank because he's going to tell his teachers and friends [and the news will get out],'" says Wilkinson. "Next thing you know, Little Hank goes, 'Mama has a baby in her belly!'"
The couple will be finding out the sex of the baby soon, but tell PEOPLE they're just hoping for a healthy bundle of joy.
"There's nothing on our minds that makes us say, 'I really want a girl or I really want a boy,'" says Wilkinson. "I always said I will not have another baby until I'm in the happiest place I've been since the birth of Little Hank and this is it. It's the four-year age difference — [our son] understands and he's asking for [a sibling]."
One thing the pair is sure about? This will be the last addition to their family. "No more," the reality star insists. "I might tie [my tubes] or take them out or whatever you do with it!"
— Melody Chiu