Kristen Bell: Why We're Keeping Pictures of Lincoln Private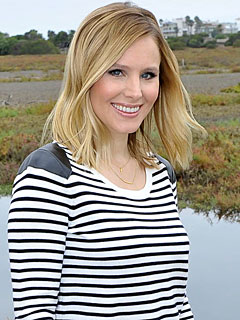 StarTracks/Neutrogena
This October, there's lots to celebrate in the Bell-Shepard household!
Earlier in the month, Kristen Bell and Dax Shepard tied the knot following a three-year engagement, with the House of Lies actress telling PEOPLE, "I can officially call him my husband, which is pretty awesome."
But the partying is set to continue with Halloween just around the corner, particularly as it will be daughter Lincoln's first.
"This has been a major topic of discussion because we don't want to blow it," Bell tells PEOPLE of how her family will coordinate costumes.
"We have friends that have really, really just nailed their costumes with their kids in the past, so we're feeling a bit of pressure … There's a lot of things being thrown out in the household and I haven't yet decided on one."
One thing for certain, however, is that the holiday will be more meaningful with Lincoln, now 7 months, involved — a concept Bell applies to every aspect of her life, including being on set.
"She comes to visit a lot. It's really fun to be able to bring a baby around because it always makes everyone smile," she says, adding that finding a work/life balance hasn't come hard for her. "It's really just renegotiating your time. I haven't found it very difficult because I like my baby. She's my best friend."
Part of Bell's decision to put her daughter first also includes keeping her image out of the spotlight — she and Shepard do not share photos of Lincoln.
"Our daughter is not a public figure. We chose to be, we volunteered to be in this business and she did not," says Bell. "I feel it's very important and my number one job as a mother to protect what her interests might be. She might grow up to be very shy and she might not want her picture anywhere. This lifestyle might make her very uncomfortable and I think it's my duty to protect that."
Unaware of her parents' celebrity status, Lincoln is simply enjoying her infancy.
"Being a baby is kind of her latest milestone," says Bell, who's partnered with Neutrogena Naturals and The Nature Conservancy to encourage water conservation in the month of October as part of the Every Drop Counts campaign. "She still puts everything in her mouth and hangs out like a blob, which I suppose could be adequate descriptions of Dax and I on any given day."
— Kiran Hefa