Jay Cutler and Kristin Cavallari Expecting Second Child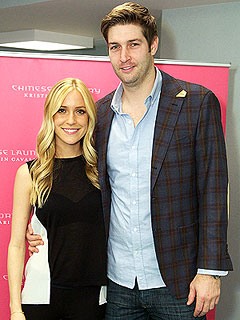 Jeff Schear/WireImage
A year of love continues for Kristin Cavallari and Jay Cutler.
The reality star turned designer, 26, and her Chicago Bears quarterback husband, 30, are expecting their second child, Cavallari confirms.
"Thank you for all the love!! We are so excited for Camden to be a big brother!" she posted on her Instagram account.
After welcoming son Camden Jack, now 14 months, in August 2012, the proud new parents were open about wanting to expand their family further — and sooner rather than later.
"We're talking about having another baby soon. We want kids close in age," she told PEOPLE.

The couple recently celebrated a milestone with their June wedding in Nashville, followed by a romantic Italian honeymoon.
"We definitely weren't ready to get married [when we got engaged], and so we put everything on hold and we ended up having the baby before," Cavallari has said.
E! Online was first to report news of the pregnancy.
— Andrea Billups with reporting by Jennifer Garcia