Tia Mowry-Hardict Jokes: Tamera and I Compete Over a Second Baby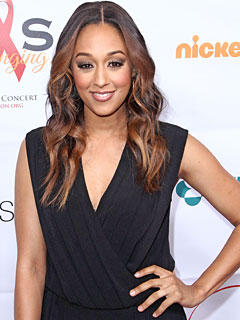 Maury Phillips/WireImage
Halloween was just another holiday for Tia Mowry-Hardict — until the birth of her son inspired her to get in the spirit.
"Now that I have a little one at home, I like to dress him up," the actress, 35, tells PEOPLE of her 2-year-old son Cree Taylor. "Last year he didn't have one costume, he had two!"
With plans in place to host a Halloween party featuring "cool desserts and foods that play into the theme" of the evening, the hands-on mama only has one thing left to conquer: the costumes. Fortunately, she's not short on creative ideas.
"I'm going to be a Geisha girl, my son Cree is going to be a sushi and my husband is going to be a Samurai. My son is going to be a sushi roll. I think that's cute!" she says.
"Or maybe my husband can be chopsticks … or my husband could be the chopsticks, my son the sushi roll and me edamame. That's cute!"
When it comes to getting into character, Cree, who often joins the actress on set, is already schooled in the process. "All he knows is seeing his mom on television," she explains. "He's been in the makeup room plenty of times. It's so cute to see him play around with the hair brushes and the makeup brushes — he knows where to put it! It's adorable."
If his interest in the industry is any indication, Cree could be following in his famous mama's footsteps in the near future. "He points to the screen and he says, 'Mama!' It's cute having my son on set," Mowry-Hardict says. "Who knows, I think he may end up being an actor one day. He just has so much personality, he's full of energy … we'll see. I enjoy him being on set with me, he rejuvenates me."
Although she loves spending time with her baby boy, Mowry-Hardict is quick to point out that motherhood isn't just a journey of highs, recalling an incident over the summer that left her in tears.
"My son had his biggest tantrum at the farmer's market. It was embarrassing … he wanted to push this cart instead of get in the little cute car buggy," she shares. "He was not having it, he cried and sprawled all over the floor, screaming and kicking. It was a moment, but we got out of there safe and sound."
She adds with a laugh, "I cried when I got home, but it's all good! It happens! I like to be real and honest about it, being a mommy is cool and it's fun, but there are some times when it gets a little stressful and you cry. But, guess what? We all do it and it's okay."
While the actress is learning how to manage two kids on her new show Instant Mom, she's not quite ready to double up on parenting duties in her real life.
"I think I'm going to wait a little bit right now. I personally want to give all of my attention to my son right now," she explains. "I don't know how I can balance two kids right now, but who knows."
But while Mowry-Hardict is hesitant to add another baby into the mix, she jokes her twin sister Tamera Mowry-Housley's desire to expand her family further could potentially play into her decision.
"There's always this inner competition with my sister and I: who's going to have the second child first," she shares. "It would be interesting if we end up getting pregnant together — that would be crazy cool in a way."
She adds, "I do want another child — and sooner rather than later — but just not now."
— Anya Leon with reporting by Caryn Midler