Colin Farrell: Watching My Son Succeed Inspires Me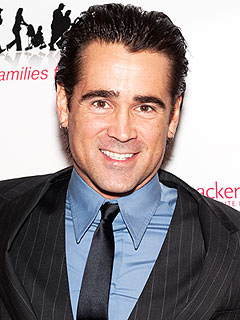 D Dipasupil/Filmmagic
Actor Colin Farrell has a new favorite family activity with sons James, 10, and Henry, 4.
"I'm trying to introduce Disney into my diet and introduce it into [their] diet for the first time," Farrell, 37, told PEOPLE at the Ackerman Institute for the Family's Moving Families Forward Gala in New York City on Monday.
"We've gone old school — Snow White and the Seven Dwarfs, Lady and the Tramp."
And while the films have been a hit, the boys aren't willing to watch just anything. "I put on Cinderella and the two of them were like … 'No,'" says Farrell with a laugh.
This comes as a small victory for James, who suffers from Angelman Syndrome, a rare neuro-genetic disorder which can impair speech, movement and balance.
"I remember the days when he couldn't watch 10 minutes of a film because he couldn't sit easy, but now he can," explains the proud father, who delights in each and every one of James' milestones.
Having previously cited his oldest son — and wanting to be a good father — as part of the reason why he finally went to rehab for drug and alcohol abuse in 2005, Farrell shares he continues to find inspiration in him today.
"Things like walking and talking and eating and feeding himself, all those things that so many of us naturally take for granted because they come so easily, to James, they come somewhat harder," he says. "Everything he's achieved in his life has come through the presence and the kind of will that is hard work. He's a lot to be inspired by."
With James and Henry not spending much time together — the boys see each other a handful of nights a month — the doting dad admits the two are still adjusting.
"They have two different moms so their crossover time isn't a lot … so they're figuring it out," Farrell says. "They're good together. They're funny together. They're finally getting used to the idea that the other one isn't leaving anytime soon, that they're both here to stay."
— Haiwen Lu